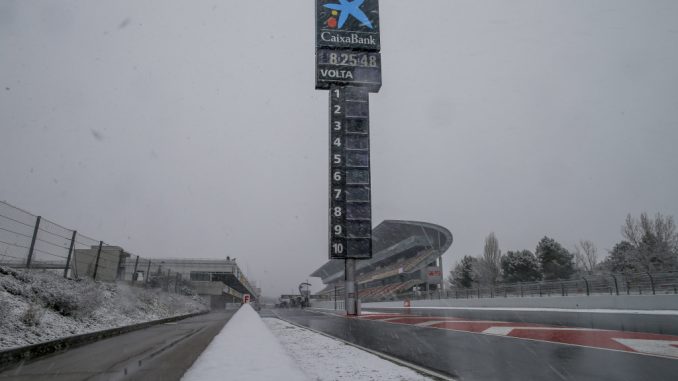 Podcast: Play in new window | Download
Subscribe: Apple Podcasts | RSS
Testing at the Circuit de Catalunya has become the norm for the last few seasons rather than testing in Bahrain. It's easier to get spares to the teams when something breaks down or falls off and the weather isn't usually too cold to run the massively sensitive F1 cars. Well that's the plan anyway and that's exactly what didn't work out this year!
This week on the podcast we look back at a snow and cold weather disrupted first week of testing for the 2018 season where there was a lack of meaningful running on at least 2 of the days, with the Wednesday all but wiped out after "The Beast From The East" (we don't mean Vitali Petrov) dumped a blizzard over practically all of Europe!
There's the usual stuff as well with a round up of the other F1 news as everyone prepares for the start of the new season in less than 2 weeks time along with a Who's A Total Shunt with a difference, Formula Lee and more. And thanks as always for your Tweets, Emails & Facebook messages and don't forget there's an extra show that you can get access to by pledging on our Patreon Page too.
Enjoy
As always, you can listen here or on Sticher and iTunes and most other podcast apps too along with TuneIn Radio (which means we now play on Alexa devices!)