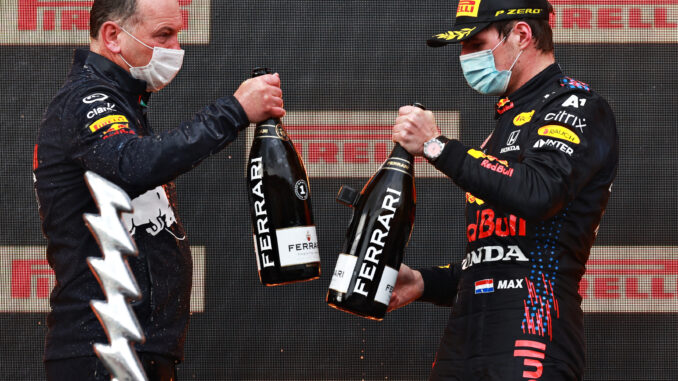 Podcast: Play in new window | Download
Subscribe: Apple Podcasts | RSS
We might have had a 3 week gap between races, but Sunday at Imola certainly made up for it. Safety Cars, red flags, on track passing and a great slab of post-race controversy after George Russell's comments on his crash with Valtteri Bottas.
This week on the podcast we look back at an action packed, wet & dry (insert all the names of it here) Imola race where RedBull looked like they're in the right position to take it to Mercedes this season, Ferrari showed a return to some levels of pace, Lando Norris got himself on the podium and Checo Perez could have been both Rockstar and W**ker in the course of 2 days!
There's all the other stuff as well with our thoughts on the new Miami GP circuit and we try and make sense of whatever is going on with the Canadian GP at the moment. All this plus a Who's A Total shunt and a load of tangents (and podcats) in there for good measure. And while you're online, check out our Discord server where you can sign up for our iRacing league as well as joining in with all the chat on there and you can keep in touch on Facebook & Twitter as always. If you want early access to the show, you can sign up for our Patreon from £1/$1/€1 per month.
Enjoy
As always, you can listen here or on Stitcher and iTunes and most other podcast apps too along with Spotify, Acast and TuneIn Radio on your smart speakers.