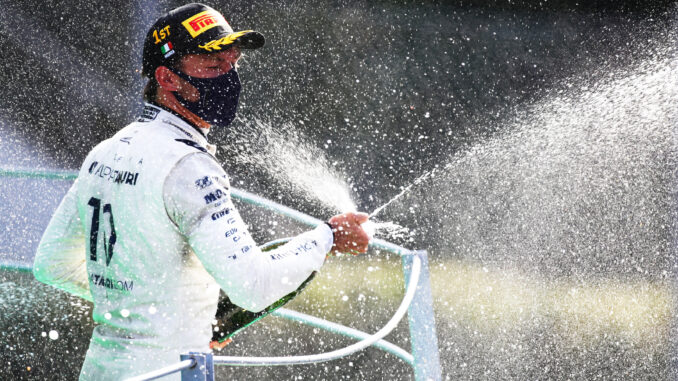 Podcast: Play in new window | Download
Subscribe: Apple Podcasts | RSS
12 months ago Pierre Gasly was in a tailspin, demoted from the RedBull team back to Toro Rosso and his career was looking like it was following the same trajectory as his new team-mate Daniil Kvyat in his first stint in the meat-grinder. 12 Months on he's just got his 2nd podium of his career and also just taken the "junior" RedBull team, now racing under the name of Alpha Tauri, back to the top step at the same circuit where they got their first win 12 years and many, many drivers ago in Monza!
This week on the podcast we look back at the Italian Grand Prix which has given us the strangest result in the strangest F1 season so far. As well as Pierre's surprise win there were also 2nd career podiums for Carlos Sainz (and he actually got to celebrate on the podium this time) and Lance Stroll, which hardly anyone would have predicted this time last week.
There's our usual team by team review of who did well and who really didn't (when a Haas was the highest placed Ferrari powered car you know it's not been a normal weekend) and a look at some of the news that come from the weekend with it being the final race where the Williams family had any involvement with the team that's carried their name to countless wins and championships over the years.
Also we mentioned on the show this week that one of our listeners has started making facemasks and if you'd like to get hold of one and support a small business in these difficult times, check out The Dread Seamstress's Etsy shop here
As we're running on 75% power (get well soon Chris) we didn't get a Total Shunt in tonight, but there's all the other waffle that comes with a race review and the reminder of the new 1st Formula Lee race of the season (Bahrain full circuit in a Renault in the dry) Don't forget to get your Prediction League entries in for Mugello as well. And check out our Discord server where you can sign up for our iRacing league as well as joining in with all the chat on there and you can keep in touch on Facebook & Twitter as always .
On to the unknown!
Enjoy
As always, you can listen here or on Stitcher and iTunes and most other podcast apps too along with Spotify, Acast and TuneIn Radio on your smart speakers.