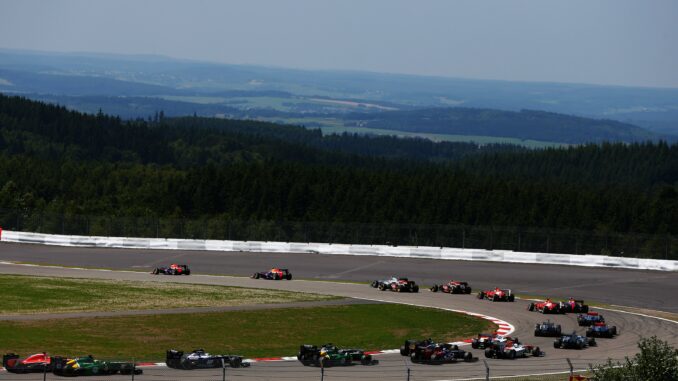 Podcast: Play in new window | Download
Subscribe: Apple Podcasts | RSS
The make-do and mend 2020 F1 season carries on and this week we're visiting a track that we last raced on in 2013, the Nurburgring in Germany's Eifel Mountains for the 1st (and possibly only) Eifel Grand Prix. When the season was being put together it looked like Hockenheim was going to be the location of choice for a German race, however local restrictions meant that it wasn't going to be possible to hold the race there with a chance of fans being admitted, but the other home of F1 in Germany is in a region that does allow this so for the first time for 7 years we're back to the 'Ring!
This week on the show we've got a preview of the 11th race of the season that sees championship favourites Mercedes do what Ferrari couldn't and head the field in their home race, while their closest competitors, RedBull, have had their future plans have been thrown into turmoil with the announcement that engine suppliers Honda are pulling out of F1 at the end of the 2021 season. There's some wild speculation on how the 2010-2014 champions will cope with a new engine supplier ranging from them going back (possibly cap in hand) to former partners Renault, to them buying the rights to the Honda PU and badging it as their own engine!.
There's all the other stuff on the show as well with a Who's A Total Shunt and the reminder of the 3rd race in the Formula Lee season (Vietnam in the dry in a Mercedes) and we will get the results of the 1st 2 races up very soon. And check out our Discord server where you can sign up for our iRacing league as well as joining in with all the chat on there and you can keep in touch on Facebook & Twitter as always .
Also an update on the Patreon campaign where Chris will do a cover version of Womanizer by Britney Spears if we get $24 in extra donations by the end of this month.
Enjoy
As always, you can listen here or on Stitcher and iTunes and most other podcast apps too along with Spotify, Acast and TuneIn Radio on your smart speakers.