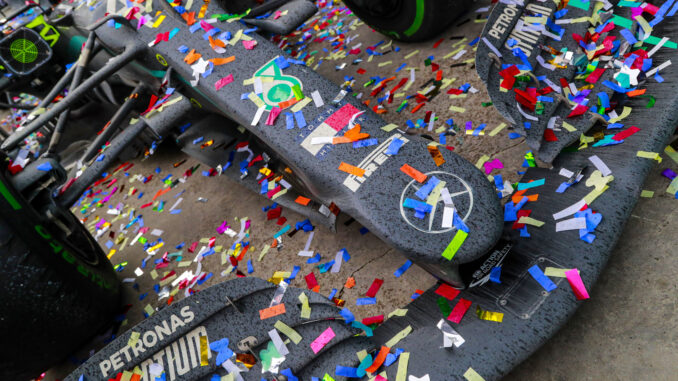 Podcast: Play in new window | Download
Subscribe: Apple Podcasts | RSS
What a way to seal a World Championship! After an amazing drive and some of the best tyre management in some of the trickiest conditions we've seen Lewis Hamilton took the win in the first Turkish Grand Prix since 2011 and with it put an insurmountable gap between himself and rest of the field to seal the World Driver's Championship for the 7th time.
This week on the podcast we look back at an incident packed Turkish Grand Prix at a rainy and slippery Istanbul Park Circuit, where we saw Lance Stroll take the 1st pole position of his career and the first for Racing Point in their current incarnation, a return to the podium for the soon to be without a drive, Sergio Perez (someone needs to sign him up for 2021) and more spins for Valtteri Bottas in one race than he's had for the last couple of seasons (this may or may not be a real stat!)
Of course, there's all the usual stuff on the show as too (although we're sorry we didn't have time to record a Patreon show this week) and a Who's A Total Shunt. Don't forget our Discord server where you can sign up for our iRacing league join in the chat during the races and practice/qualifying sessions along with during the week as well and of course you can keep in touch on Facebook & Twitter as always .
Stay Safe & Enjoy
As always, you can listen here or on Stitcher and iTunes and most other podcast apps too along with Spotify, Acast and TuneIn Radio on your smart speakers.