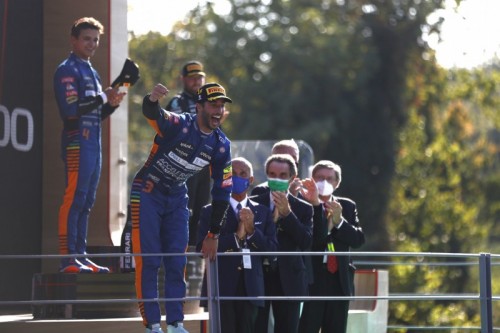 Podcast: Play in new window | Download
Subscribe: Apple Podcasts | RSS
This weekend's Italian Grand Prix broke a few losing streaks, we got to see the first McLaren win since 2012, the first 1-2 by the papaya team since 2010 and the first Daniel Ricciardo winning shoey since 2018. All in all it was a good race for the Woking outfit. For Mercedes & RedBull, not quite as much.
This week on the podcast we're joined by VirtualStatMan, Sean Kelly to go through an event packed Monza race where the heated title battle between Lewis Hamilton & Max Verstappen went up a few dozen degrees with both of them ending up in the gravel after another coming together.
We do the usual thing of breaking the race down team by team and there's a lot of discussion on the crash that took both of the title contenders out of the race. Bit praise where it's due there was also the recovery drive from Valtteri Bottas after his Sunday engine penalty, more points for George Russell & Williams and of course that McLaren 1st & 2nd.
Also as it's our 300th show we'd like to thank everyone that's listened to and supported us during the last 6 1/2 years and can't believe that something that we started as a web forum for motor racing fans on the Isle of Man now has listeners worldwide!
And while you're online, check out our Discord server where you can sign up for our iRacing league as well as joining in with all the chat on there and you can keep in touch on Facebook & Twitter as always. And don't forget you can click the link to signup at Patreon from £1/$1/€1 per month.
Enjoy
Chris, Dan, Lee, Paul & Sian
As always, you can listen here or on Stitcher and iTunes and most other podcast apps too along with Spotify, Acast and TuneIn Radio on your smart speakers.