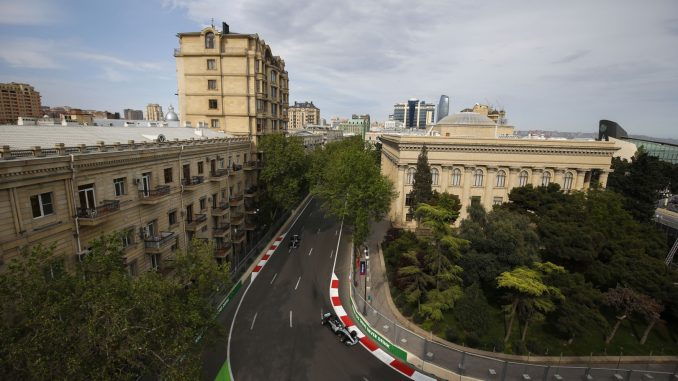 Podcast: Play in new window | Download
Subscribe: Apple Podcasts | RSS
Just in case you hadn't noticed, it's our 200th show this week and we decided to do something special for it… Actually we haven't done anything out of the ordinary and we're leaving it to you, the listeners to decide what we do to commemorate it, do you want us to do a live stream on YouTube again soon, or anything else? Let us know and if it's possible we'll start doing special shows again based on your suggestions soon,
Aside from our celebrations, we've got a race to preview in Azerbaijan this weekend and if the last 2 races there are anything to go by, we should be in for an action packed one! The race at the Baku City Circuit has thrown curveballs at us for the 3 years it's been on the calendar and have been the only races in the last 3 season where a driver from outside the top 3 teams has made it onto the podium, and both of those drivers (Perez & Stroll) just happen to make up the Racing Point team this year, so could it happen again?
Also on the show this week there's a few bits of news from round the F1 paddock, including the rumours that Williams could be in line to be taken over and a driver swap for this year's 24 hours of Le Mans.
There's also the usual features with an update on the latest Formula Lee challenge (Baku in the dry in a Force India) a Who's A Total Shunt and our usual tangents. Also don't forget to sign up for our league in the official Fantasy F1 game and we've got our own predictions league running too that you can take part in.
Don't forget about our extra show on our Patreon page where you can get an exclusive extra podcast for as little as $1 a month. And if you want your own 3Legs4Wheels t-shirt you can get one from our shop at Teepublic
Enjoy
As always, you can listen here or on Stitcher and iTunes and most other podcast apps too along with Spotify, Acast and TuneIn Radio (which means we now play on Alexa devices)