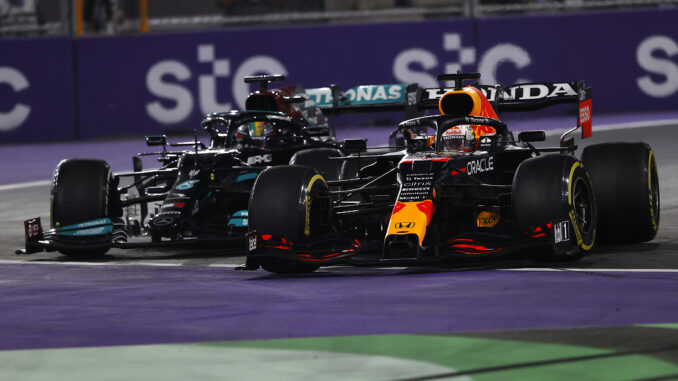 Podcast: Play in new window | Download
Subscribe: Apple Podcasts | RSS
Are any of us sure what we watched at the weekend? In all the years of F1 I don't think any of us have seen a race quite like the first ever Saudi Arabian Grand Prix from the Jeddah Corniche Circuit. Max & Lewis came out of the penultimate race of the season level on points but with even more tension between them after various off-tracks and brake tests.
Luckily for us this week we've got help from VirtualStatMan Sean Kelly in sorting through one of the most chaotic races ever in one of the best ever Formula 1 seasons we've had. There's an attempt at the team by team review but lets face it, the main talking point is the Max v Lewis battle for the World Driver's Championship that hit new levels of attrition and controversy as we head to Abu Dhabi for the season ending decider.
There's all the other usual stuff as well with a few tangents and as Sean's with us, an extra Who's A Total Shunt for good measure. Thanks as always for your support and once again, apologies for missing last week while Sian & Paul settle in to the new 3Legs towers!
And while you're online, check out our Discord server where you can sign up for our iRacing league as well as joining in with all the chat on there during the race and the rest of the week and you can keep in touch on Facebook & Twitter as always.
Enjoy
As always, you can listen here or on Stitcher and iTunes and most other podcast apps too along with Spotify, Acast and TuneIn Radio on your smart speakers.