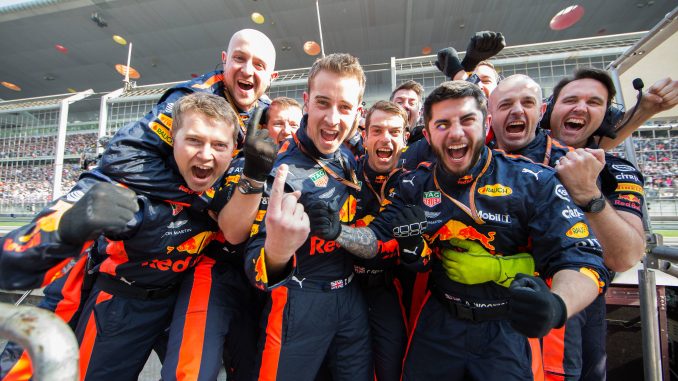 Podcast: Play in new window | Download
Subscribe: Apple Podcasts | RSS
Come on then, at the end of FP3 on Saturday morning, did anyone actually predict that Daniel Ricciardo would be on the top step of the podium the following afternoon? His car was in bits after a fiery turbo failure, there wasn't a fully built Renault power unit to put in the car and it was looking pretty unlikely that he'd even make it out for qualifying?
This week on the podcast we look back at the Chinese Grand Prix where RedBull defied all the odds to pull off an amazing victory, helped in no small part by their team of mechanics and a couple of the bravest strategy calls we've seen in a long time (2 double stacked pit stops?) There's the usual team by team review of the race and it turned out to be pretty binary for just about all 10 teams where one driver held the advantage over their team-mate.
There's all the other usual podcast features on the show as well with our first Who's A Total Shunt from one of our canine listeners (seriously!) and the China Formula Lee results and (although we didn't say it on the show) check out the fantasy league on Gridrival.com to see how your team did this weekend.
And thanks as always for your Tweets, Emails & Facebook messages and don't forget there's an extra show that you can get access to by pledging on our Patreon Page too and if we get over 250 Patreon subscribers by the time the LeMans 24h rolls round in a couple of months, we'll be live blogging that again. And don't forget to check out our new range of merch that you can order by clicking the link at the top of the page or here.
Enjoy
As always, you can listen here or on Sticher and iTunes and most other podcast apps too along with TuneIn Radio (which means we now play on Alexa devices!)