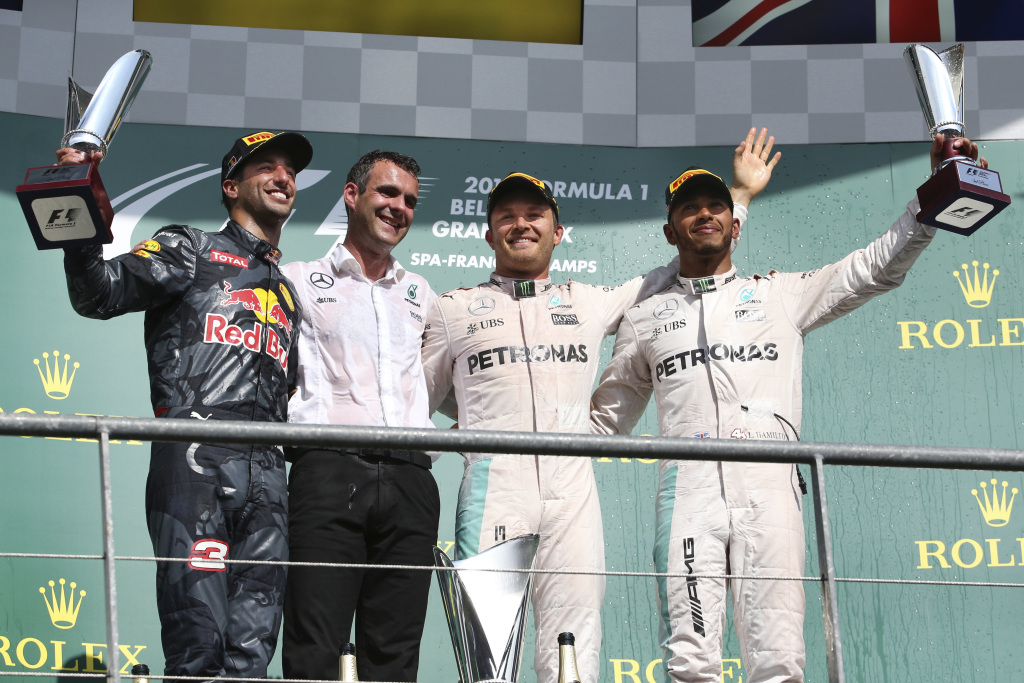 Podcast: Play in new window | Download
Subscribe: Apple Podcasts | RSS
So the Belgian Grand Prix is all done and dusted and Lewis Hamilton somehow still leads the Driver's Championship even though he racked up a total of 60 places worth of power unit and gearbox penalties over the weekend. This should now give him enough power units to get him to the end of the season without having to lose grid places again (unless Mercedes bring in upgrades and then it could all start again, unless he lets Nico take them on his own of course).
But all in all it was a pretty eventful race that we're looking back at on this week's podcast. We had the usual incidents on lap 1 at La Source with too many cars trying to get in to a space for not enough cars, and once again Ferrari came off 2nd best from an early shunt. There was K-Mag's spectacular crash at the top of Eau Rouge that eventually brought out a red flag after 3 laps of Safety Car running. Even though anyone could see that they were going to have to bring the cars back in to replace the tyre barrier and Fernando's combination of a great drive and a bit of luck that got him from dead last to
We also take a bit of a look forward to this weekend's Italian Grand Prix in Monza, where the Ferrari's are going to have to up their game in front of the Tifiosi and very probably the big boss Sergio Marchionne as well (pressure, what pressure?)
We're closing the show tonight with a Nico Rosberg tribute as well, seeing as he likes to collect nationalities when it comes to racing, we've put together the national anthem of Rosbergia, which sound remarkably like the Finnish, German and Monegasque national anthems chucked in a blender!
As always we go through the mailbag again and please keep the Tweets, Emails and Facebook posts coming in as we do read all of them and share the best ones on the show.
Enjoy
As always, you can listen here or on Sticher and iTunes and most other podcast apps too!