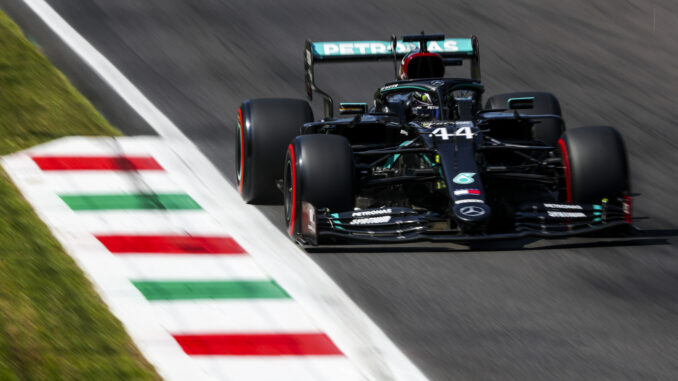 Lewis Hamilton set a new track record and the fastest F1 lap of all time to secure pole position at the Italian Grand Prix.
The reigning champion was just under 0.07s faster than teammate Valtteri Bottas, who starts on the front row in Monza for the first time in his career, while McLaren's Carlos Sainz found a fast time late on to complete the top three on the grid.
Sainz's teammate Lando Norris starts on the third row alongside Red Bull's Max Verstappen, who was narrowly beaten by Sergio Perez.
Verstappen's teammate Alexander Albon is back in ninth after having one of his Q3 times deleted for running wide.
A number of drivers also had times deleted early on as the stewards strictly enforced track limits, while traffic also proved an issue towards the end of Q1.
Kimi Raikkonen and Esteban Ocon almost collided, with the Finn annoyed to be stuck behind the Renault driver while pushing, while Sebastian Vettel and George Russell both expressed their frustrations after finding themselves towards the back of the queue.
Vettel was the big casualty in Q1, but all Ferrari-powered cars struggled, with Charles Leclerc the highest qualifying in 13th. A number of drivers missed the chance to go faster on their final lap in Q2 as Kevin Magnussen went wide, bringing out a yellow flag.
1 Lewis Hamilton (Mercedes)
2. Valtteri Bottas (Mercedes)
3. Carlos Sainz (McLaren)
4. Sergio Perez (Racing Point)
5. Max Verstappen (Red Bull)
6. Lando Norris (McLaren)
7. Daniel Ricciardo (Renault)
8. Lance Stroll (Racing Point)
9. Alexander Albon (Red Bull)
10. Pierre Gasly (AlphaTauri)
11. Daniil Kvyat (AlphaTauri)
12. Esteban Ocon (Renault)
13. Charles Leclerc (Ferrari)
14. Kimi Raikkonen (Alfa Romeo)
15. Kevin Magnussen (Haas)
16. Romain Grosjean (Haas)
17. Sebastian Vettel (Ferrari)
18. Antonio Giovinazzi (Alfa Romeo)
19. George Russell (Williams)
20. Nicholas Latifi (Williams)