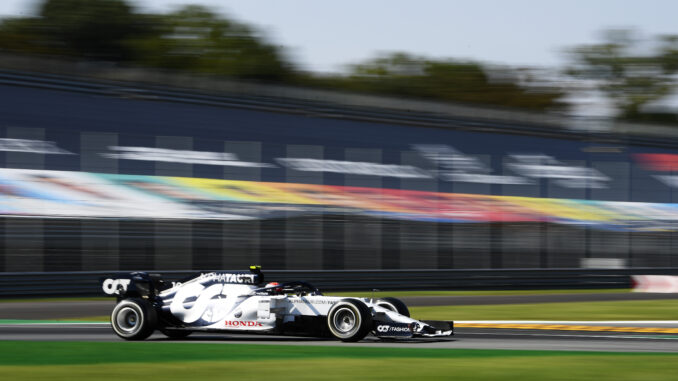 Pierre Gasly is an F1 winner for the first time in his career after surviving a last lap challenge from Carlos Sainz at the Italian Grand Prix, with Lance Stroll completing an unusual podium lineup at Monza.
It was a poor start for Valtteri Bottas, who lost four places on the opening lap as both McLarens, Sergio Perez and Daniel Ricciardo all cruised past the Finn.
Alexander Albon was also heading backwards after tangling with Gasly before clattering into Romain Grosjean, resulting in a five-second time penalty for the Thai driver, while his teammate Max Verstappen came under early pressure from Stroll.
A disappointing weekend at their home race for Ferrari got worse just a few laps in when Sebastian Vettel suffered a brake failure, before Kevin Magnussen became the second retirement shortly after.
Magnussen's mechanical issue meant he had to pull his Haas to the side of the track, resulting in a safety car. However, because his car was so close to the pitlane, race control had to shut the pitlane to protect marshals. Antonio Giovinazzi and Lewis Hamilton were both called into the pitlane though, with Alfa Romeo and Mercedes seemingly having not seen the red light at the pit entrance.
Both drivers received 10-second stop and go penalties as a result, but had to wait to serve their penalties as Charles Leclerc suffered a high-speed crash just after the safety car came in, sending the only remaining Ferrari into the tyre barrier. The collision left the barrier damaged, so the session had to be red-flagged.
Hamilton resumed at the front of the grid, but with his penalty it was Stroll who held the net lead. A poor start for the Canadian though saw him lose out to Gasly and the Alfa Romeos, before Sainz powered past.
Once Giovinazzi came in to serve his penalty, Sainz closed to the back of Raikkonen and had enough pace to go around the outside of the 2007 champion, before looking to close the gap to Gasly ahead.
The top teams' bad luck continued when Red Bull had to call Verstappen in to retire because of a problem with the Honda power unit.
Having been dropped to the back of the pack because of his penalty, Hamilton made quick progress through the back markers to get back inside the points positions with five laps remaining.
Sainz had DRS on the last lap as he tried to claim his first win at the expense of Gasly, but the Frenchman had enough pace to keep the McLaren behind, resulting in jubilant scenes in the AlphaTauri garage as he crossed the line.
Provisional classification:
1 Pierre Gasly (AlphaTauri)
2. Carlos Sainz (McLaren)
3. Lance Stroll (Racing Point)
4. Lando Norris (McLaren)
5. Valtteri Bottas (Mercedes)
6. Daniel Ricciardo (Renault)
7. Lewis Hamilton (Mercedes)
8. Esteban Ocon (Renault)
9. Daniil Kvyat (AlphaTauri)
10. Sergio Perez (Racing Point)
11. Nicholas Latifi (Williams)
12. Romain Grosjean (Haas)
13. Kimi Raikkonen (Alfa Romeo)
14. George Russell (Williams)
15. Alexander Albon (Red Bull)
16. Antonio Giovinazzi (Alfa Romeo)
DNF:
Max Verstappen (Red Bull)
Charles Leclerc (Ferrari)
Kevin Magnussen (Haas)
Sebastian Vettel (Ferrari)