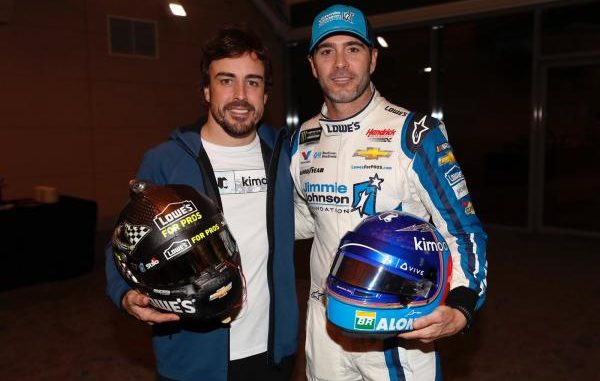 This year's 24 Hours of Le Mans entry list has been published and the race on June 15th & 16th this year will feature a few names that are familiar to F1 fans in the newly expanded 62 car field.
Current WEC Championship leader Fernando Alonso will be making possibly his final appearance for the Toyota Gazoo Racing Team in the number 8 car alongside former F1 drivers Sebastien Buemi and Kazuki Nakajima, while ex Toyota & Sauber driver Kamui Kobayashi will be in the sister Number 7 car, with 2017 WEC champion Brendon Hartley expected to be named as a reserve driver for the Toyota team at the race with a permanent seat expected to be announced for the New Zealander for the 2019/20 season.
Alonso isn't the only F1 champion taking part in the race though as Jenson Button continues to drive in the LMP1 class for SMP racing in the number 11 car with the Russian former Renault/Lotus and Catherham driver Vitali Petrov also on the team and Sergei Sirotkin will be in the team for SMP's number 12 car. Another ex-Williams racer Bruno Senna will be piloting the number 1 Rebellion racing car along with one time Caterham driver Andre Lotterer to round out the former F1 drivers in LMP1
In the LMP2 class, there's a few recognisable names with a couple of controversial ex F1 drivers taking part. Geido van der Garde will be driving for Racing Team Nederland in the number 29 and Pastor Maldonado in a Dragon Speed. Alongside van der Garde will be McLaren "young" driver (for the last 9 years) Nyck de Vries, who will be making his Le Mans debut this year, while Sky pundit Anthony Davidson will be hoping for a minimum of Pastor Disastors as he partners Maldonado in the number 31.
In the 2 GT classes (Pro & Am) there are still a lot of drivers yet to be announced by their teams, but the number 97 Aston Martin will have one-time Williams development driver Alex Lynn behind the wheel and in the Am class the number 97 will be driven by Pedro Lamy who scored Minardi's only point in the 1995 F1 season when he managed to finish 6th in the last Australian Grand Prix on the Adelaide circuit.
3Legs4Wheels will have more coverage of the build up to Le Mans this year here and on the podcast leading up to the race in 2 months time.