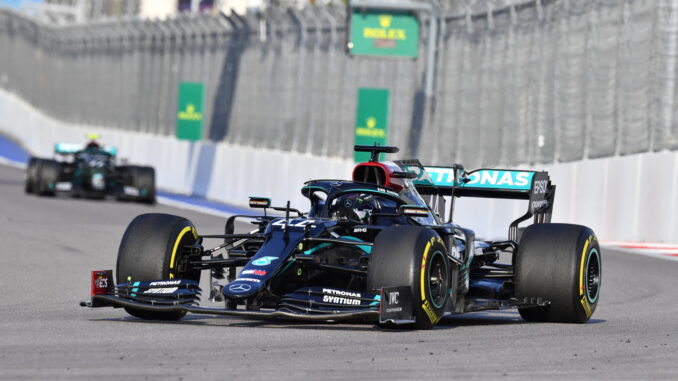 Lewis Hamilton survived a scare in Q2 to secure pole position at the Russian Grand Prix in Sochi, setting a new track record in the process.
The Mercedes driver will start alongside Max Verstappen on the front row, while his teammate Valtteri Bottas lines up in third.
Kimi Raikkonen's hopes of progressing from Q1 were dealt a blow when he spun on his final lap, forcing him to abandon his attempt and leaving him at the back of the field.
Both Haas cars were also out in the first session, but George Russell made it through to Q2 for Williams, going faster than both Ferraris in the first part of qualifying.
There was drama in Q2 when Sebastian Vettel spun and crashed with just over two minutes remaining in the session, bringing out the red flag. The timing was particularly unfortunate for Hamilton, who had his first lap time deleted for not sticking to track limits, leaving him in danger of being knocked out.
The reigning champion ran wide while pushing on his outlap once the session restarted, leaving him in danger of not making it to the startline in time, but he crossed the line with just over a second remaining to get a legal lap on the board, which was good enough to send him through the top 10 shootout.
Lance Stroll missed out after the red flag, as his mechanics had to push him back into the garage when his Racing Point appeared to develop a fault while he was in the queue to exit the pitlane.
Bottas had looked the faster of the two Mercedes drivers' throughout practice, but lacked his teammate's pace in Q3, and Verstappen was able to split the two Silver Arrows.
Verstappen's teammate Alexander Albon in turn struggled to match the Dutchman's pace, having finished the session back in 10th, more than a second adrift of Verstappen's time.
Sergio Perez, having been outspoken about Racing Point not giving him the same upgrades as Lance Stroll for this weekend's race, showed impressive speed late on to put his car on the second row of the grid.
Provisional qualifying result:
1 Lewis Hamilton (Mercedes)
2. Max Verstappen (Red Bull)
3. Valtteri Bottas (Mercedes)
4. Sergio Perez (Racing Point)
5. Daniel Ricciardo (Renault)
6. Carlos Sainz (McLaren)
7. Esteban Ocon (Renault)
8. Lando Norris (McLaren)
9. Pierre Gasly (AlphaTauri)
10. Alexander Albon (Red Bull)
11. Charles Leclerc (Ferrari)
12. Daniil Kvyat (AlphaTauri)
13. Lance Stroll (Racing Point)
14. George Russell (Williams)
15. Sebastian Vettel (Ferrari)
16. Romain Grosjean (Haas)
17. Antonio Giovinazzi (Alfa Romeo)
18. Kevin Magnussen (Haas)
19. Nicholas Latifi (Williams)
20. Kimi Raikkonen (Alfa Romeo)