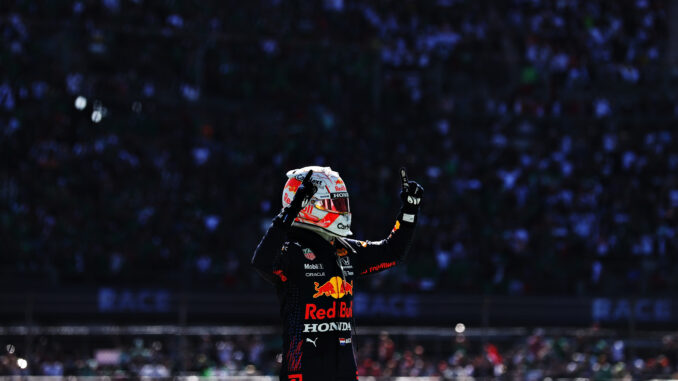 Max Verstappen has extended his lead at the top of the drivers' championship with victory at the Mexico City Grand Prix.
He was joined on the podium by title rival Lewis Hamilton and teammate Sergio Perez, who secures his first podium finish at his home race.
It was a lively start to the race as the two Mercedes cars and Verstappen went into the first corner level, with the Dutchman braking latest to take the lead.
Valtteri Bottas came off worst, getting tagged from behind by Daniel Ricciardo, leaving the Mercedes facing the wrong way, while the McLaren driver lost his front wing.
The rest of the pack had to take avoiding action in order not to collide with Bottas, resulting in Esteban Ocon banging wheels with Yuki Tsunoda and Mick Schumacher, taking both out of the race and bringing out the safety car.
The field started to spread out, with Verstappen showing strong pace at the front of the field, and Sergio Perez given the call to close the gap to Hamilton.
The reigning champion was the first of the front runners to come in for fresh tyres, but he came back out right behind Charles Leclerc, ensuring Verstappen remained comfortably ahead when he stopped on the next lap.
Perez stayed out longer, ensuring he'd have fresher tyres towards the end of the race, and the Mexican pressed the catch Hamilton late on. With 10 laps to go, Perez was on the back of Hamilton with DRS, but the duo had backmarkers to contend with, and Perez was unable to get close enough to make an overtake.
Mercedes brought Bottas in late on to take the fastest lap away from Verstappen, although the Finn finished outside the top 10, missing out on the bonus point.
Provisional classification:
1 Max Verstappen (Red Bull)
2. Lewis Hamilton (Mercedes)
3. Sergio Perez (Red Bull)
4. Pierre Gasly (AlphaTauri)
5. Charles Leclerc (Ferrari)
6. Carlos Sainz (Ferrari)
7. Sebastian Vettel (Aston Martin)
8. Kimi Raikkonen (Alfa Romeo)
9. Fernando Alonso (Alpine)
10. Lando Norris (McLaren)
11. Antonio Giovinazzi (Alfa Romeo)
12. Daniel Ricciardo (McLaren)
13. Esteban Ocon (Alpine)
14. Lance Stroll (Aston Martin)
15. Valtteri Bottas (Mercedes)
16. George Russell (Williams)
17. Nicholas Latifi (Williams)
18. Nikita Mazepin (Haas)
DNF:
Mick Schumacher (Haas)
Yuki Tsunoda (AlphaTauri)