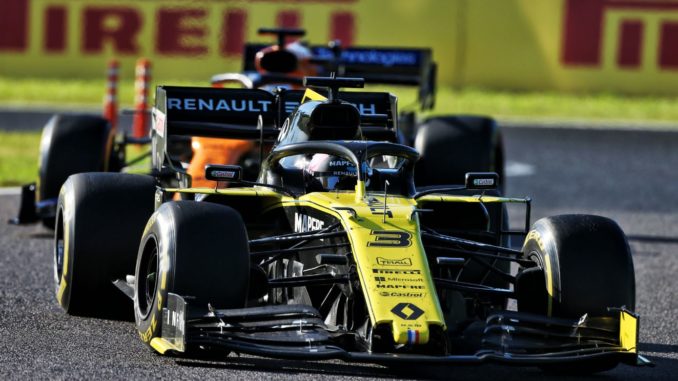 Daniel Ricciardo and Nico Hulkenberg have both been disqualified from the Japanese Grand Prix following a protest by Racing Point.
The FIA has announced that the protest has been upheld after Renault's midfield rivals raised questions over the legality of the French team's braking system following the race in Suzuka.
The Silverstone-based team had alleged on-board footage from the Renaults showed the team was using an automatic brake-bias adjustment system, which would contravene the FIA's technical regulations.
The stewards found the system itself doesn't breach any current technical regulation, instead finding it exploits "certain ambiguities". However, the panel did find this constitutes of a breach of the sporting regulations, which prohibit driver aids. The conclusion stipulates "the brake balance adjustment system in question acts as a driver aid, by saving the driver from having to make a number of adjustments during a lap."
Renault have until 10am tomorrow Mexico City time to appeal against the decision ahead of the start of the Mexican Grand Prix weekend.
The ruling will cost both drivers points, with Ricciardo having been classified 6th and Hulkenberg 10th. With the duo disqualified, both Racing Point cars will now be in the points, while Daniil Kvyat also moves up into the top 10.