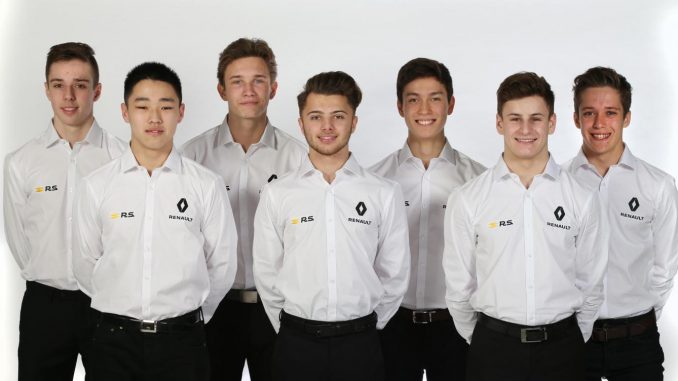 Renault hope investing in young drivers will help them find a future Formula 1 champion.
The constructor relaunched its driver academy in 2016 as it returned to F1, and recently confirmed seven drivers will be part of the programme for 2018.
Academy director Mia Sharizman believes seeing the youngsters challenge for titles in junior and feeder series will be the first step to success. In an interview with Sky Sports, he revealed Renault only bring in drivers who can compete for titles, with all those involved this year having already finished in the top two in various championships. Although Renault is a French brand, Sharizman insists the team isn't bothered about finding a French driver – he says the priority is to find a future F1 champion regardless of their home country.
Jack Aitken is the most experienced of those on the programme. The British-Korean driver will make his debut in F2 this year, where his teammate will be Mercedes youngster George Russell. 18-year-olds Sacha Fenestraz and Arthur Rougier will race in European F3, while three Renault juniors take part in Formula Renault Eurocup and Sun Yue Yang takes part in British F3.
Competing in F1's main support series seems to make Aitken the next in line for a seat in the main Renault team, but with Carlos Sainz and Nico Hulkenberg at the team now, there might not be an opening for a couple of years. Team principal Cyril Abiteboul has admitted he'd like to place the Renault youngsters with F1 teams that are Renault customers, like Mercedes have done with Esteban Ocon at Force India and Ferrari with Alfa Romeo Sauber's Charles Leclerc. This could be more difficult for Renault though as their two customer teams, McLaren and Red Bull, both have their own junior driver programmes. Red Bull can take drivers from Toro Rosso and have youngsters competing in other series already, while McLaren have Lando Norris (who speaks to 3Legs4Wheels on this week's podcast) stepping up to F2 this year – taking a Renault driver would defeat the purpose of having their own young driver set-ups.
Although the current academy is only a couple of years old, Renault do have experience bringing young talent through during their previous spell in F1, helping develop Heikki Kovalainen, Robert Kubica and Romain Grosjean early in their careers, while Fernando Alonso was the youngest ever F1 champion when he won his first driver's title with the team in 2005.
Sharizman highlights Red Bull's programme as the one he most admires, admitting everyone looks up to Helmut Marko and Red Bull. However, the academy director isn't just drawing inspiration from other F1 teams, having spent time with Premier League club Southampton's academy recently. The club is well known for producing top young talent and giving them a chance in the senior team. Sharizman revealed the team has discussed a collaboration with Southampton, having been impressed by the club's use of data alongside training.