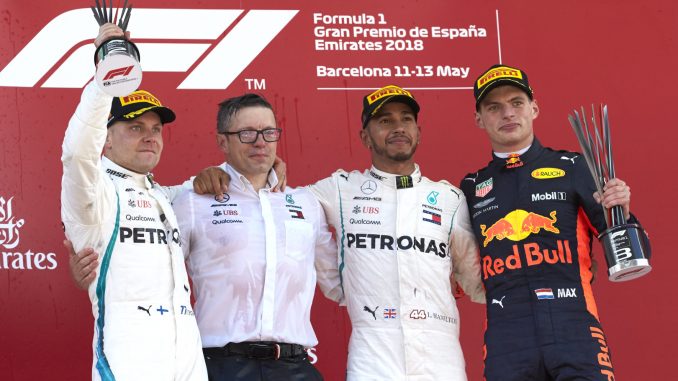 Lewis Hamilton made it back-to-back wins with victory at the Spanish Grand Prix.
The current world champion comfortably converted pole position into his second win of the season to extend his lead at the top of the drivers' standings.
Here's what the drivers and teams had to say after the race:
Lewis Hamilton (Mercedes – 1st):
"I'm really, really happy. I had no idea how the race was going to play out. We got the qualifying right yesterday, but the temperatures were going up and down today, clouds were coming over and we didn't know if it was going to rain or not. But I got a good start and after that the others didn't have the pace to keep up with me. I was pulling away almost a second a lap and I was thinking "Yes, let's keep this up!" – and it stayed that way for the rest of the race. To get our first 1-2 of the season here is a really great result for the team.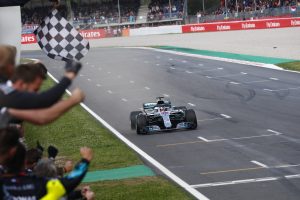 "Everyone's worked so hard, we had a great pit stop and great strategy. I said that I wanted to come win the way that I won and when I was coming across the line I was just happy that I did as I planned to. The team have been working very hard to understand the tyres and how the car works, so I think it all came together this weekend. We definitely go to Monaco on a high note, but we know that we still have a lot of work to do. It's really important that we all continue to push and work as hard as we have done during this first part of the season."
Sebastian Vettel (Ferrari 4th):
"Our tires didn't last as long as for the others, so we couldn't follow the same strategy. We had to stop again and we obviously lost two positions, and also a bit of time during the pit-stop itself. But staying out was not an option today. We had problems finding the right balance of the car and we were struggling with the front tires. Maybe the changes for this weekend had a bad impact on us, worse than the one the others had. So, I am happy to go back to 'normal' tires in Monaco as we seemed to struggle a little bit more than the others. Today we just didn't have the right pace, Mercedes was faster than us and we hadn't many chances. We tried our best, but something was missing and we need to improve on this. During the whole weekend it has been tough to find the right balance on these new tires. But I see no reason for not being optimistic for the next race."
Max Verstappen (Red Bull – 3rd):
"I always feel quite good on this track and today has been a nice turning point after the first few races where it hasn't gone to plan. To come back and get on the podium is really nice. The car behaved really well all race on both soft and medium tyres. It felt balanced and had good pace so I was confident I could push on and achieve a good result. We lost a bit too much time at the beginning behind Kimi and it would have been hard to overtake him. We got a bit lucky with him having the problem and therefore allowing us to get an extra place and increase our speed. After that I could settle down and concentrate on my own race.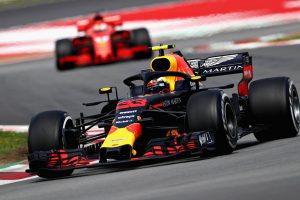 "I saw Sebastian approaching but I knew I had relatively fresh tyres so it would be hard for him to overtake, this allowed me to manage the situation quite well. I had some damage to the front wing which luckily didn't affect the performance too much. The piece fell off and it only meant a small amount of oversteer so I was able to keep a solid pace and bring it home in third place. We were quick here in the last sector which is all low speed corners so looking ahead to Monaco we can hope for a good result. We will concentrate on the setup, get a good balance and hopefully put ourselves in with a real chance."
Valtteri Bottas (Mercedes – 2nd):
"This is a perfect result for us as a team. I was in a difficult situation after the first stint because I was stuck behind Sebastian. We knew that we had a strong car with a lot of pace and I think that we were quicker, but it is so hard to overtake here at this track. But we made the right choice when Sebastian pitted under the VSC and decided to stay out. Before the race we thought a one-stop would be nearly impossible, but when we saw the tyres were holding up better than expected we changed our strategy. Of course I would have rather won the race, but the team did a really good job today and their decision secured this 1-2 for us. It's great to get a lot of points for the team today. The next race in Monaco could be difficult for us; I think Red Bull will be really strong and Ferrari was on pole last year. So we need to keep working hard and believe in our ability to improve things."
Toto Wolff (Mercedes – Team Principal):
"That was a great result but there was no point this afternoon where it felt as comfortable as it might have looked from outside. Lewis did a fantastic job this afternoon: a great start, impressive pace in the opening stint and perfect management of the medium tyre. For Valtteri, we tried to overcut in the first stint and just missed out on passing Vettel. Then when Sebastian took the chance to pit again under the VSC, we decided to do the opposite and take the medium tyre to the finish. That involved running the tyre a long way, a little bit into the unknown with over 45 laps to do on it, and we had our hearts in our mouths in the final laps as there were some vibrations on the front axle as well. Valtteri did the perfect job to manage the load on the left front and the falling tyre temperatures on old tyres, and sealed a really special one-two finish.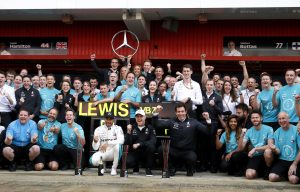 "It feels like a long time since we had a 1-2 finish, so there's definitely a measure of relief in how we asserted ourselves today. But we know as well that this was a good circuit for us and the temperatures fell in our favour as well. So we need to stay calm and humble, because it can be a different ball game again next time round. We will savour the result this evening – but our thoughts are already turning to Monaco, to the struggles we had there last year and to how we can make sure not to suffer a repeat."
Kimi Raikkonen (Ferrari – DNF):
"My race was going pretty ok today, I was in a decent position and the speed was good. I was running smoothly and saving the tires. Everything could have been alright, but unfortunately it did not happen. At one point I started losing power; I managed to drive around but obviously not at full speed anymore, so I drove back to the garage. We don't know more than that about the issue we had, we need to take the car back to the factory and check what happened. Looking at the Championship, this result is far from ideal, and I'm pretty disappointed. There is nothing we could have done differently today, but we need to try and keep pushing."
Kevin Magnussen (Haas – 6th):
"I had a really good start. I was alongside the Red Bulls, but I didn't really want to fight them as I knew they were much faster. My job was to stay in seventh and settle down from there. I was able to defend well, keep out of trouble on the first lap, so I was happy. It's been a strong performance and I think we deserved to get the kind of points we've scored in Bahrain and here. We should be able to score points at every race, and we have had the car to do that, we've just had some mistakes and mishaps that meant we didn't score points regularly. It's good to get some good points on the board. I'm happy we're back more in our deserved position in the constructors' championship, as well. We just need to keep this level up and continue to score regularly."
Yeees!! 🤙🏼🤙🏼 what a day! We already have the same amount of points as last year. A fantastic achievement by the whole team @HaasF1Team 💪🏼 pic.twitter.com/dOjagEcYes

— Kevin Magnussen (@KevinMagnussen) May 13, 2018
Daniel Ricciardo (Red Bull – 5th):
"It was certainly a strange race. At the beginning we had good pace and it seemed like Kimi was a bit slower than Max and myself. I thought I was faster than them but then once they picked up the pace I wasn't really able to go with them. When we pitted for the medium tyre we came out in traffic and lost some rhythm. I also had a spin on the VSC re-start, struggling to keep heat in the tyres, which really put me out of the race. Fortunately there were no walls but it put me in no-man's land. There were moments where the car was really fast but it was just too difficult to get it every lap. I would set the fastest lap and then the next lap I would nearly spin. There is potential but it's just hard to extract consistently at the moment, so we have some more to learn with this new package. In the end, it was a pretty boring race but I'm going to take some positives from the potential we have."
Sergio Perez (Force India – 9th):
"It was a tough afternoon but to score two points in these conditions is not a bad result and a decent reward after a difficult race. I made a good start but I had to go wide to avoid the accident with Grosjean and I lost a lot of positions. It really complicated everything for me because it put me behind a lot of other cars. After that we made the right strategy calls, especially pitting under VSC, but then I hit debris from Verstappen's car and I picked up some damage. I was struggling with a lot of vibrations and I was lucky to make it to the end. It's good to come home with some points after starting so far back, but it's a shame about Esteban's retirement because we could have scored points with both cars today. We have a lot to improve, but I hope we can be much more competitive in Monaco."
Carlos Sainz (Renault – 7th):
"I think it's a very positive result for me and the team. We can be very proud of what we've achieved this weekend as this track was not ideal for us. We turned things around well since Friday, did a very good start and managed to finish seventh which I think was the best we could hope for. It feels great to get another good result at home and I hope the fans have enjoyed the race. Many thanks to all for their support! It's good progress for the midfield fight and important points for the team. We have areas to work on, but we are making good progress. Let's keep pushing."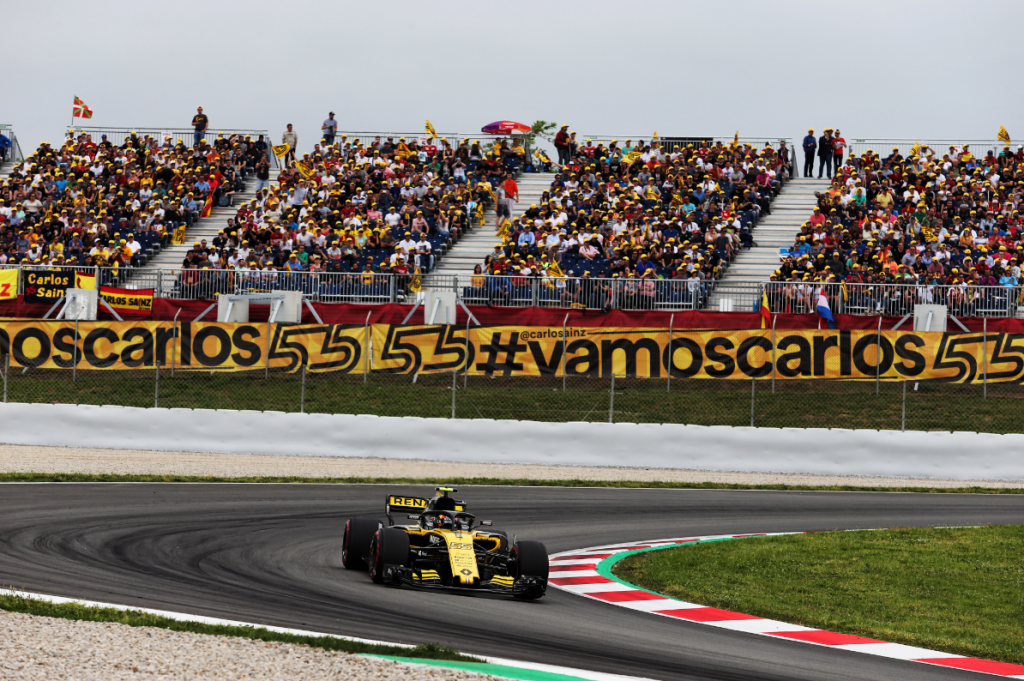 Romain Grosjean (Haas – DNF):
"There's not much to say. I lost the rear end in turn three and I just spun. If you look at the footage, I had wanted to avoid contact with my teammate. Kevin had a bit of a wobble, I lifted off the throttle, and then the car just went. I'm sorry for the others that were involved – there wasn't much I could do once the car went. Kevin had a good race, which is good for the team. I had wanted a steady race, but that wasn't today."
Fernando Alonso (McLaren – 8th):
"During the race, I was concentrating more on the sky than the cheering grandstands, as in some corners there were very dark clouds. I thought maybe some rain could have helped us, but unfortunately it didn't come in the end. It was difficult to overtake today – I was behind Leclerc for a long time – as we are still lacking some straight-line speed to be able to pass. This is something we're working on; we know where our car's weaknesses lie and hopefully we'll find a solution quite soon. We made a good step forward here, but we know it's going to be a tough battle until the end of the season. It's important to score points every race and we have done so far for five consecutive races. I'm happy right now."
Final word of the day goes to @alo_oficial, thanking his fans for your awesome support over his home Grand Prix weekend. 🇪🇸👊 #SpanishGP pic.twitter.com/L9qskJcJI7

— McLaren (@McLarenF1) May 13, 2018
Nico Hulkenberg (Renault – DNF):
"It was messy into turns one and two but in turn three it got a lot messier. I saw a car spin in front of me and a lot of smoke. It happened very quickly so I couldn't avoid Grosjean spinning backwards into my car. It's a pity as we were competitive, we have good pace so it's frustrating not to have shown that yesterday and today. It's difficult to swallow, especially when it's not your fault. We'll have to try again in two weeks."
Charles Leclerc (Alfa Romeo Sauber – 10th):
"It is a great feeling to finish in the points again. It was quite an interesting race, with tricky weather conditions making it challenging to drive, especially in terms of tyre management. We have made considerable progress since the beginning of the season, and the whole team is eager to continue working hard in this direction. It will be important to stay focussed – the next Grand Prix will be my home race in Monaco, and I am very excited to drive my first Formula 1 race there."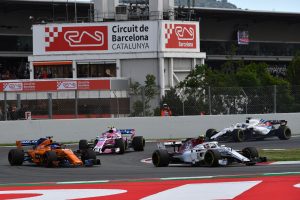 Guenther Steiner (Haas – Team Principal):
"A good day, but it could've been better. Romain made up positions at the start, but the car spun around and his race ended early. Kevin did a solid job. There was never a threat for his position. All in all, a good day, and again we showed that we're in the top of the midfield at the moment. We're really looking forward to going to Monte Carlo to get some more points."
Esteban Ocon (Force India – DNF):
"A disappointing day on my side of the garage. We were racing well and looking good for some points. Then things went wrong at my pit stop when there was a problem changing the right rear wheel. We lost about twenty seconds and it put us to the back of the pack. A few laps later I lost power and had to park the car. It looks like an oil pressure problem, but we need to wait until the car is back to know exactly what happened."
Very unlucky today as we were doing a good race for points, 20sec issue at the pit stop and then an oil pressure problem forced me to retire… Onto the next one, we turn the page! #EO31 #SpanishGP pic.twitter.com/TvVs9xwtGn

— Esteban Ocon (@OconEsteban) May 13, 2018
Cyril Abiteboul (Renault – Team Principal):
"We're leaving Barcelona in positive spirits. Our target is to be in the points at every race and we achieved that with Carlos through another strong performance from him. He also qualified in the top ten, reinforcing the pace of the Renault R.S.18. We're happy that this result takes us one point ahead of McLaren in the Constructors' Championship, meaning for the first time we're in fourth. The battle is very tight so we need to keep developing and performing at our best. We need to eradicate the gremlins, such as those which affected Nico's qualifying. Nico was blameless in an unexpected accident on the first lap, but starting in a lower grid position makes you vulnerable to these sorts of incidents. Overall it has been a weekend with many positives which we will build on as we head to Monaco."
Pierre Gasly (Toro Rosso – DNF):
"Starting from P12, we were two positions away from P10 so points were clearly the target. Unfortunately, we couldn't achieve any, which is a shame. It's only the fifth race of the season but it's a missed opportunity. The crash with Romain at the start was a big mess, I saw some space on the inside with Nico and I tried to cut the corner as much as possible, but suddenly he came back completely towards us. It took both Nico and myself out. It seems like every weekend I have a peak of adrenaline with different incidents! Clearly it's a big shame not to be able to fight with the others and get a good result. The impact was big but I am fine, I'm just disappointed to be out on lap 1, because you work all weekend for the race and the chance to fight for points, but the excitement ended pretty quickly. Now we just need to focus on the test next week."
Not how I wanted to spend my Sunday… pic.twitter.com/YbM3KhIis2

— Pierre Gasly 🇫🇷 (@PierreGASLY) May 13, 2018
Brendon Hartley (Toro Rosso – 12th):
"I had a clean start and made up a few positions on the first lap. The mechanics did an amazing job to get the car ready for today – it was actually finished last night – we just had to do the car setup this morning. We decided to pit under the first safety car and go straight on to the medium to effectively do a one-stop. It worked, but it meant we lost a lot a couple of positions in the beginning. It was difficult to overtake today, I think some of the cars around us had a bit more top speed which made life difficult. I had a good overtake on Marcus at the end to get 12th and if I had made the overtake a little bit earlier there would have been the chance for 11th as well, because the pace was definitely there at the end of the race."
Lance Stroll (Williams – 11th):
"We scored no points but it was a good race.  I made a good start again with a lot of positions. Then it was just steady running and I did everything I could, but just missed out on points. After the safety car period it was tricky, as tyre warm up was hard and I suffered a little bit there, but all in all it was okay. The medium tyres were pretty easy to manage and I am really happy with the race we had. Eleventh is pretty much everything we could hope for today."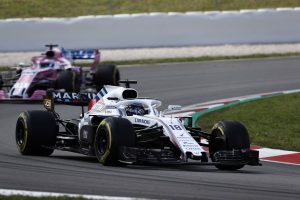 Otmar Szafnauer (Force India – Chief Operating Officer):
"To come away with two points from such a challenging weekend is a pretty good outcome all things considered. Esteban's issues today certainly robbed him of the chance to score points, but Sergio drove a strong race making the most of an excellent two-stop strategy. The wheel issue during Esteban's stop needs to be fully investigated, but we believe some debris from his brake duct caused the problem. The subsequent oil leak ended his race, but we are hoping that there is no damage to the engine."
Marcus Ericsson (Alfa Romeo Sauber – 13th):
"I was strong in the first half of the race with the medium tyres, then we were a bit unlucky with the virtual safety car coming right after our pit stop and that was really frustrating. In the second stint, I struggled more on the soft tyre. The result was a bit disappointing because we were in the fight and not too far off scoring points. Overall it was a good race, I had very good fights and defended well. The fact that Charles scored points is very positive for the team and from my side I need to bounce back in Monaco."
Stoffel Vandoorne (McLaren – DNF):
"It was an unfortunate end to the race. I felt that the race was going to come towards us at the end, we had a one-stop strategy and extended the first stint to go very long on the Soft tyres. We had managed the tyres well and we wanted to create a big tyre delta to the others. It's always hard to predict exactly where we would've ended up, but I feel at the end we could've had some more chances to overtake. The upgrades we brought here are definitely a first step forward. We've been able to make progress especially for qualifying, but there's still a long way to go and we need to keep improving, and keep bringing some new parts to every race."
Unfortunate DNF today… looking forward to 2 more days of testing coming up🇪🇸 #SV2 #McLaren #Renault #SpanishGP pic.twitter.com/GhYyvOXveE

— Stoffel Vandoorne (@svandoorne) May 13, 2018
Sergey Sirotkin (Williams – 14th):
"It's been a very tough day. I had a good start and I was right in the mix before I almost got caught by a couple of spins ahead of me. I needed to slow down to avoid them but once I was through, I was last. I managed to fight a bit with Toro Rosso and get ahead for a couple of laps. Today, it was the worst I have experienced throughout the whole race. I struggled a lot with my seating comfort which we are looking into."
Frederic Vasseur (Alfa Romeo Sauber – Team Principal):
"We leave Barcelona feeling positive. We had a very strong rhythm at a certain stage of the race and scored one point, which we did not anticipate before arriving here as it is quite a demanding track. Both drivers put in a good performance, and we scored points for the third time this season. The team is motivated to keep pushing and we have to stay focussed now to make the next step."