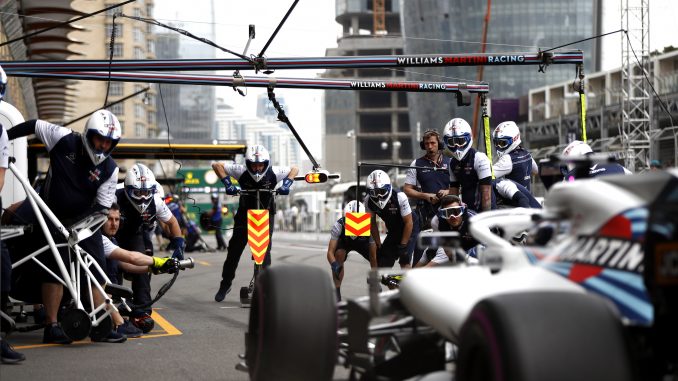 Williams will head to the Spanish Grand Prix with more supersoft tyres than any of their rivals.
Pirelli has revealed the selected sets each driver will have available for the race at Circuit de Catalunya, with Sergey Sirotkin opting for 10 sets of supers – one more than teammate Lance Stroll.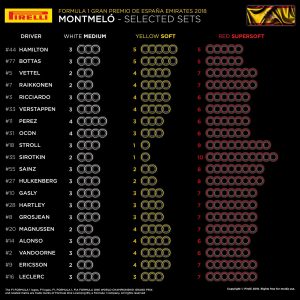 Renault also favour the softest compound in use for the weekend, choosing to have eight sets, but most drivers will have either six or seven of the red-striped tyre in Barcelona.
Mercedes appear to be heading into the fifth race of the season with the most conservative tyre strategy, selecting just five supersofts – Lewis Hamilton and Valtteri Bottas will be the only drivers to have so few sets available. However, the Mercedes duo will also have more soft compound tyres than drivers from other teams.
Each of the top three teams has gone with a different selection. Ferrari will have two more supersofts sets than Mercedes, while Red Bull have one extra. The Italian constructor will bring just two sets of mediums for Sebastian Vettel and Kimi Raikkonen, while Mercedes and Red Bull each have three.
Force India's drivers will be able to use more of the medium tyres than anyone else on the grid, as Esteban Ocon and Sergio Perez each have four sets. Every other driver will have two or three of the hardest compound in use at Spain.
The teams have already had some running on this year's tyres at Barcelona, having completed eight days of pre-season testing at Circuit de Catalunya before the first race of the year in Australia. This should mean teams will have a better idea which 2018 compounds work best at the circuit. However, the track will be much hotter than during the snow-affected test earlier this year, while it will be the first time F1 cars have raced on the newly-laid track surface. Most teams are bringing the same number of each tyre for both of their drivers, with only Williams, Sauber and Haas splitting their strategies.