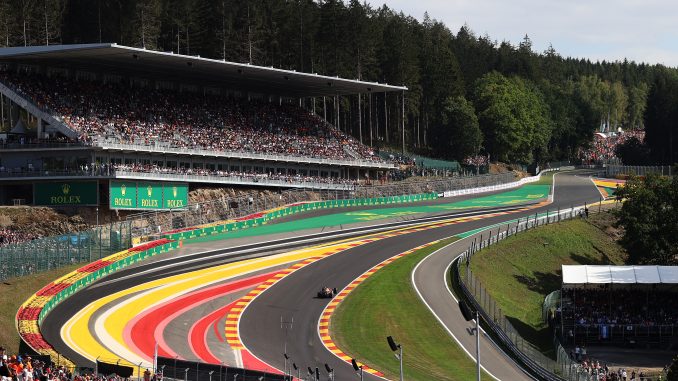 Max Verstappen increased his lead at the top of the drivers' championship after charging through the field to win the Belgian Grand Prix, despite an engine penalty meaning he started from 14th.
His Red Bull teammate Sergio Perez finished second, while pole sitter Carlos Sainz secured the final place on the podium.
A slow start from Perez meant Fernando Alonso jumped up to second, but soon came under pressure from Lewis Hamilton. The seven-time champion briefly moved ahead of the Spaniard, but cut across too soon and bumped into the Alpine's tyre, lifting his Mercedes off the ground. Hamilton tried to continue, but the damage to his car was too great, and he had to pull to the side of the track.
Valtteri Bottas was also out early after Nicholas Latifi dipped a wheel into the gravel and spun, picking up Bottas's Alfa Romeo to leave the Finn beached in the gravel trap.
The safety car was needed to clear Bottas and Hamilton's cars, while Latifi was able to keep his Williams going, but had to come in for an early pitstop to get a new front wing.
Having started from 14th, Verstappen made quick progress through the field, moving into the top 10 on the opening lap before climbing up to the podium places. Sainz was the first of the front runners to pit, while Perez didn't make things difficult for Verstappen, allowing the Dutchman to take the lead.
Charles Leclerc also started towards the back of the field after taking new engine parts, but his progress was hindered by getting a tearoff stuck in his brake ducts, forcing Ferrari to bring him in early for his pit stop.
Verstappen dropped back to second after making his stop, but soon moved back ahead of Sainz, while Perez found a way past the Ferrari three laps later for a Red Bull 1-2.
Sainz came under pressure for the final spot on the podium as George Russell started to close the gap to the third-placed Ferrari, with Sainz asking his team to consider making a third pit stop.
Ferrari did bring Leclerc in for a late change of tyres in a bid to secure the extra point for fastest lap, but he lost a place to Alonso as he came out of the pits, leaving him stuck behind the Spaniard. He did manage to pass Alonso on the final lap to climb back up to fifth, but the traffic cost him a shot at fastest lap.
There was a further blow for Leclerc though, as he was given a five-second time penalty for speeding in the pit lane, dropping him back behind Alonso to finish sixth.
Provisional classification:
1 Max Verstappen (Red Bull)
2. Sergio Perez (Red Bull)
3. Carlos Sainz (Ferrari)
4. George Russell (Mercedes)
5. Fernando Alonso (Alpine)
6. Charles Leclerc (Ferrari)
7. Esteban Ocon (Alpine)
8. Sebastian Vettel (Aston Martin)
9. Pierre Gasly (AlphaTauri)
10. Alex Albon (Williams)
11. Lance Stroll (Aston Martin)
12. Lando Norris (McLaren)
13. Yuki Tsunoda (AlphaTauri)
14. Guanyu Zhou (Alfa Romeo)
15. Daniel Ricciardo (McLaren)
16. Kevin Magnussen (Haas)
17. Mick Schumacher (Haas)
18. Nicholas Latifi (Williams)
DNF:
Valtteri Bottas (Alfa Romeo)
Lewis Hamilton (Mercedes)