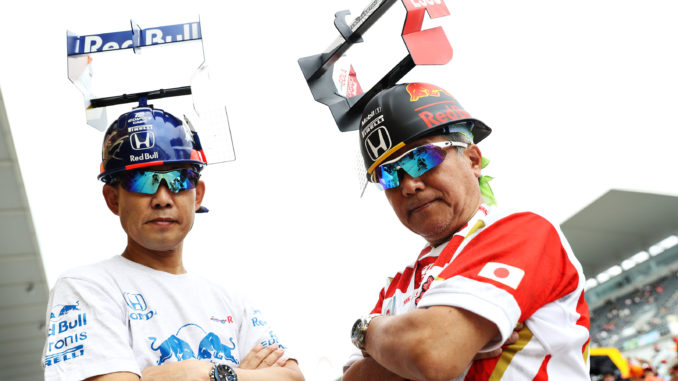 Suzuka hosts the 17th round of the 2019 Formula 1 season, as the Japanese Grand Prix takes place this weekend.
Mercedes ended Ferrari's unbeaten run since the summer break last time out, with Lewis Hamilton winning the Russian Grand Prix in Sochi.
The reigning champion holds a 73-point lead over teammate Valtteri Bottas heading into this race.
3 Legs 4 Wheels previews this weekend's action:
Last year's race:
It was a straight-forward victory for Hamilton in 2018, as the Mercedes driver converted pole position into the race win without ever losing the lead of the race.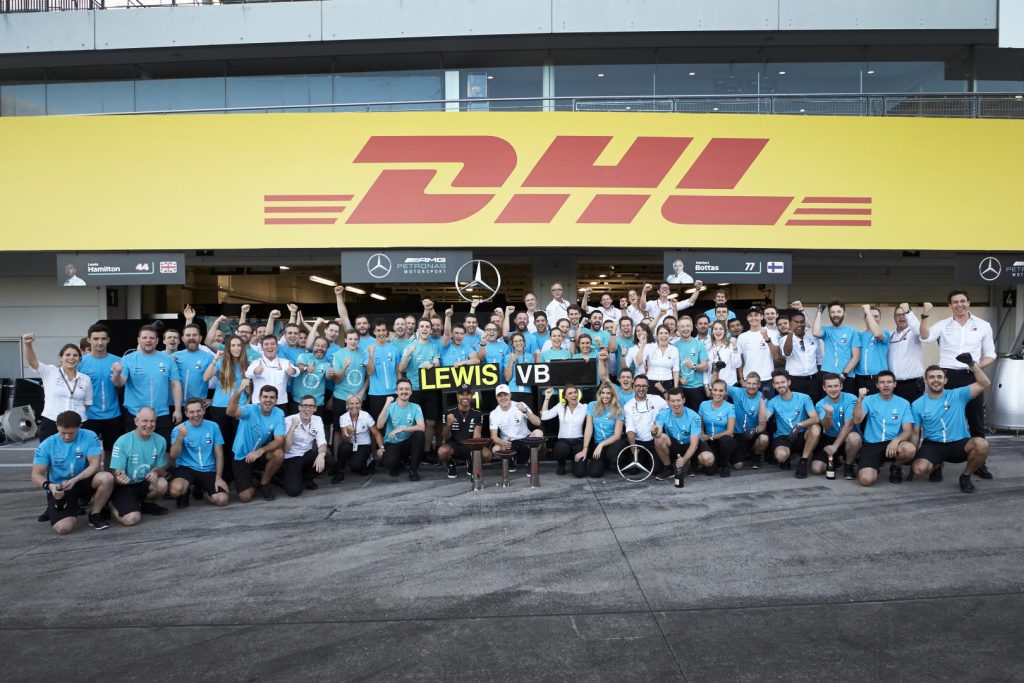 There wasn't much action at the front of the field as the top three crossed the line in the same order they started, but Daniel Ricciardo had one of his best drive's of the second half of his final year with Red Bull, coming from 15th on the grid to secure fourth.
Max Verstappen held on the third despite picking up a time penalty for an early incident with Kimi Raikkonen, which saw the Finn drop down to 5th.
Sebastian Vettel also picked up places during the race after a disappointing qualifying, while Sergio Perez was the highest placed driver from outside the top three teams.
The track:
The Suzuka International Racing Course is 5.807km long, with 53 laps during the race. Kimi Raikkonen holds the racing lap record at this track, having posted a time of 1:31.540 during his time with McLaren in 2005.
Since last year, the artificial grass to the right of turn 15 has been removed, with a double kerb taking its place, while there have also been changes to the drainage at turn 15, which could prove vital if it rains.
Just one DRS zone will be used at this race, with the detection zone at the entrance to turn 16, before drivers can open the rear wing along the start/finish straight.
Tyres:
Pirelli has given the drivers its three hardest compounds for this race, with Mercedes banking on the medium C2 option being the best tyre. Hamilton and Bottas will have more of the yellow-striped tyre than any other drivers in Suzuka.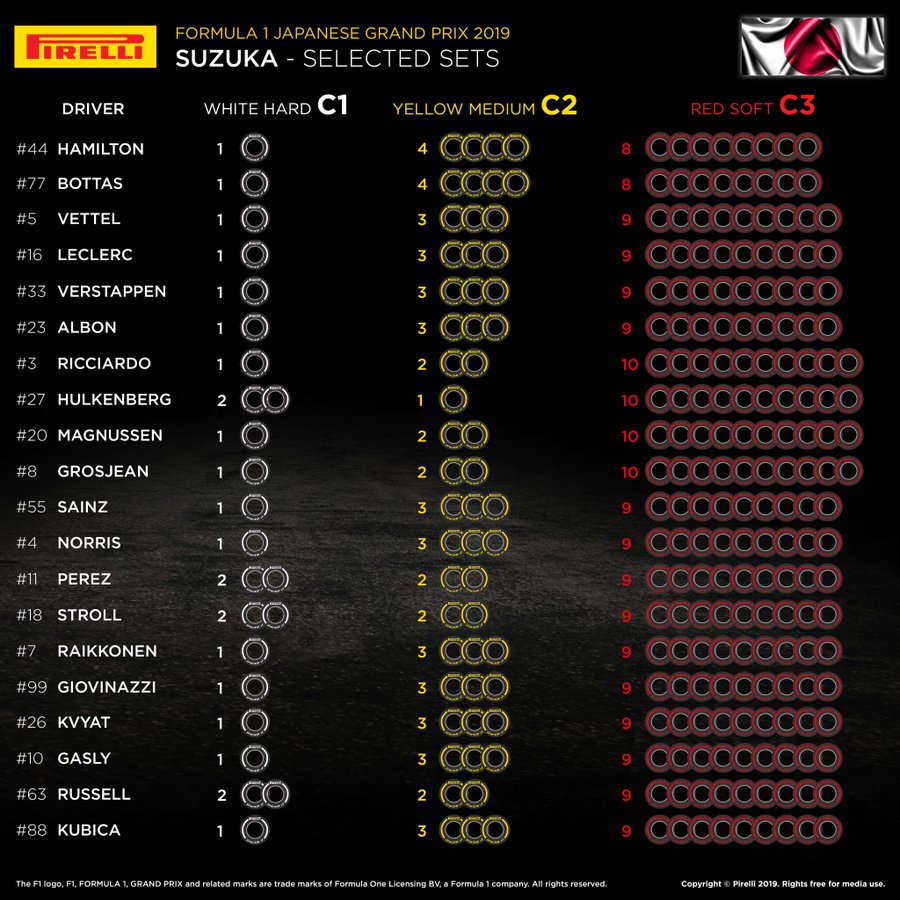 Renault and Haas are the only teams to have 10 sets of softs, with most teams opting for nine sets of the C3s, while only four drivers have more than one set of the hards.
Last year, all three of the dry compounds were in use during the race, but most drivers made just one pitstop. Some drivers made last year's supersofts go further into the race than the softs, which Mercedes started the race on, so tyre management could be key during Sunday's race.
Memorable moment:
For the four years prior to 1991, the drivers' title had been wrapped up in Japan, but Nigel Mansell arrived at that year's race hoping to buck the trend. He needed to win the race and hope the rest of the order went in his favour, while Ayrton Senna simply needed to finish ahead of the Briton.
Senna was ahead early in the race, but the Williams driver was in pursuit. However, his title dreams shattered when he ran wide while chasing the Brazilian on the 10th lap of the race, damaging his car, leaving him beached in the gravel, and ultimately ending his race.
Mansell did win five of the last 10 races of the 1991 season, and carried that form over into 1992, becoming the first driver to win nine races in a single season as he took that year's championship.
Statistics and form:
Mercedes are unbeaten in the hybrid era at Suzuka, with Hamilton winning four of the last five races here, including the last two. With the reigning constructors champions bringing an upgrade to this race after winning last time out in Russia, it seems likely they'll be involved near the front of the grid again this weekend.
Hamilton and Vettel both have four previous wins at Suzuka, while Hamilton also won in Japan when the race was held in Fuji in 2007. All of the German's victories came in his Red Bull days though, while Ferrari haven't had a driver on the top step in Japan since Michael Schumacher's last win here in 2004.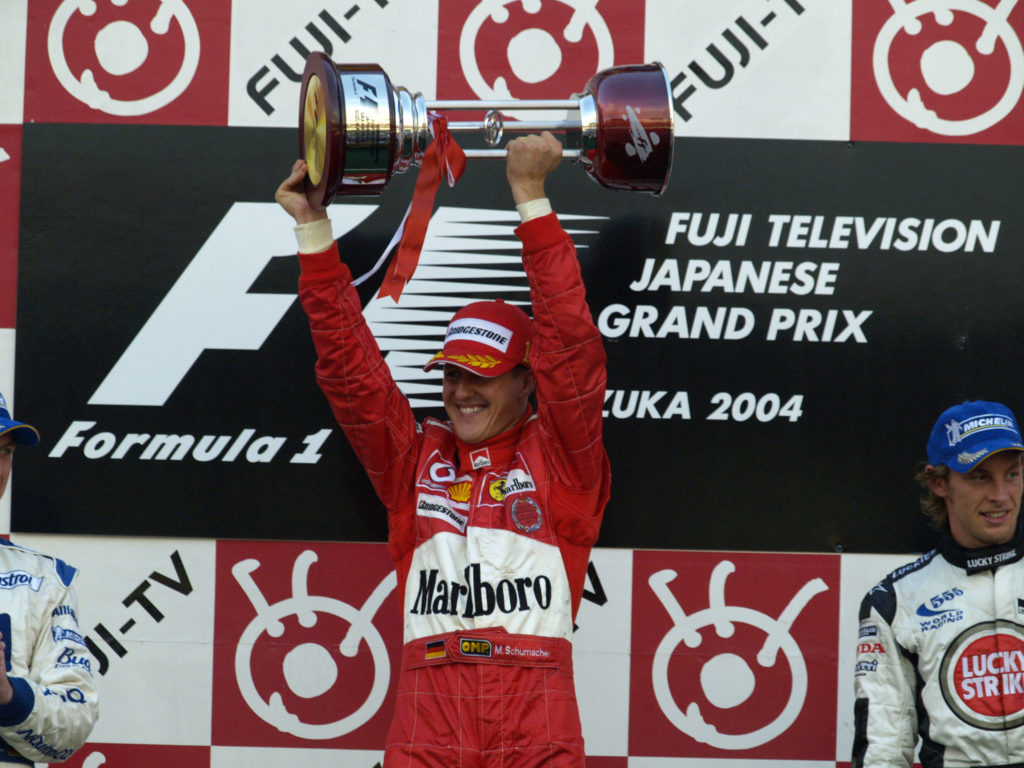 Ferrari have previously said they don't expect this to be a track that favours this year's car, but Red Bull could be contenders, with what's reported to be a big fuel upgrade coming for this race at engine manufacturer Honda's home race. All four Honda-powered drivers took new power unit components in Sochi to ensure they'd be in peak condition for this event.
Charles Leclerc comes into this race as the form driver in qualifying, starting the last four races from pole position. The Monegasque driver doesn't have a huge amount of experience at this track though, having raced here just once before, suffering the misfortune of being rear-ended by then teammate Marcus Ericsson at last year's race.
Qualifying is important in Japan, with just two races having been won by a driver not starting on the front row since 1991.
Drivers who win in Japan are typically of champion pedigree. Since Ricardo Patrese's 1992 Japanese Grand Prix victory, Rubens Barichello is the only non-champion to have won in Japan. In 44 races in Japan, only five have been won by drivers who don't have at least one F1 title.
Pierre Gasly has only done three races in the Toro Rosso this year after switching seats with Alex Albon mid season, but he'll have less time in the car than more experienced teammate Daniil Kvyat this week as Super Formula and Super GT champion Naoki Yamamoto takes his spot for FP1. The Honda-endorsed Japanese driver does qualify for a super licence, so could be in contention for a drive at Toro Rosso next season, but at 31-year-old, he might be a little old for Red Bull's junior team unless he really impresses.
#TyphoonHagibis continues to head towards #Japan, with a likely landfall towards #Tokyo this Saturday.

This will bring heavy #rain, very strong winds and large waves to the area @F1 #F1JAPANESEGP #RugbyWorldCup @rugbyworldcup pic.twitter.com/61zwLme8vO

— Met Office (@metoffice) October 9, 2019
There's also the small matter of the weather. It can often be a mixed bag in Suzuka, but a category five Super Typhoon is due to hit Japan this weekend. As well as making racing pretty tricky, that also poses a safety risk to fans, and as a result two matches at the Rugby World Cup, which is also taking place in Japan currently, have been cancelled in order to keep spectators safe. F1 has said it's monitoring conditions, so the schedule could be subject to change.
Join us during qualifying and on race day for our live blogs, and let us know who you think could be on the podium on Sunday by taking part in our predictions league. You can also see who we think will be in the top three and make sure you give this week's podcast a listen to hear more of our thoughts ahead of the race. Let us know what you make of the action through Facebook or on Twitter.