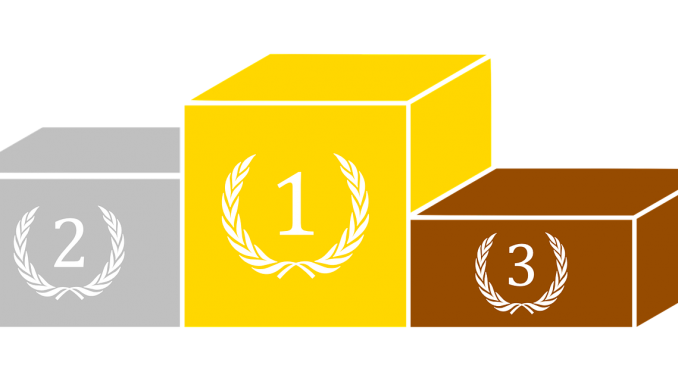 Before every race we always go through our predictions for the top 3 on the podcast and as we might be a bit competitive we decided to make a competition out of it last season, which Paul won (even though Lee complained he missed a race) so let's do it again for 2019 and see who comes out top this year.
The rules are, all 5 of us will predict the top 3 for each race during the week before and you get 3 points for each correct prediction in the right place and 1 point for a driver you predict finishing inside the top 3 in a different position to where you thought they would be. So by the end of this season we'll know who is the prediction King or Queen of the podcast!. But there's a twist this year, every race we'll have a guest predictor for the top 3 so can the team beat the guests as well?
Also if you want to join in with your own predictions we've got our league running here.
The scores so far after 5 races are:
| | |
| --- | --- |
| Predictor | Points |
| Paul | 25 |
| Lee | 16 |
| Chris | 14 |
| Dan | 11 |
| Sian | 11 |
| Guests | 10 |
Top 3:
Bottas
Hamilton
Verstappen
Predictions:
Chris:
Leclerc – 0pts
Vettel – 0pts
Hamilton – 1pt
Dan:
Vettel – 0pts
Leclerc – 0pts
Hamilton – 1pt
Lee
Hamilton – 1pt
Verstappen – 1pt
Bottas – 1pt
Paul
Hamilton – 1pt
Vettel – 0pts
Verstappen – 3pts
Sian
Vettel – 0pts
Hamilton – 3pts
Leclerc – 0pts
This weeks guest is last year's Formula Lee winner Bradley Chambers
Hamilton – 1pt
Vettel – 0pts
Leclerc – 0pts
Top 3
Hamilton
Vettel
Leclerc
Predictions:
Chris
Verstappen – opts
Bottas – 3pts
Hamilton – 1pt
Dan
Leclerc – 1pt
Vettel – 0pts
Bottas – 1pt
Lee
Hamilton – 3pts
Bottas – 3pts
Vettel – 0pts
Paul
Vettel – 0pts
Hamilton – 1pt
Leclerc – 3pts
Sian
Verstappen – 0pts
Vettel – 0pts
Bottas – 1pt
This week's guest predictor is regular podcast listener Niske "I have to back my Ferrari boys" Knipe
Vettel – 0pts
Hamilton – 1pt
Leclerc – 3pts
Top 3 for China
Hamilton
Bottas
Vettel
Chris
Leclerc – 0pts
Hamilton – 1pt
Vettel – 1pt
Dan
Vettel – 1pt
Hamilton – 1pt
Verstappen – 0pts
Lee
Hamilton – 3pts
Leclerc – 0pts
Bottas – 1pt
Paul
Hamilton – 3pts
Leclerc – 0pts
Verstappen – 0pts
Sian
Leclerc – 0pts
Vettel – 1pt
Bottas – 1pt
Our guest predictor this week is podcast listener and double Formula Lee champion Geoff Sharp
Leclerc – 0pts
Vettel – 1pt
Hamilton – 1pt
The top 3 in Baku were:
Bottas
Hamilton
Vettel
Chris
Hamilton – 1pt
Leclerc – 0pts
Bottas – 1pt
Dan
Hamilton – 1pt
Verstappen – 0pts
Perez – 0pts
Lee
Hamilton – 1pt
Bottas – 1pt
Verstappen – 0pts
Paul
Hamilton – 1pt
Bottas – 1pt
Vettel – 3pts
Sian
Verstappen – 0pts
Leclerc – 0pts
Hamilton – 1pt
This week's guest predictor is long time listener Mack Perry from Florida
Hamilton – 1pt
Vettel (on team orders) – 1pt
Leclerc (with witty radio about team orders) – 0pts
Top 3 for Spain
Hamilton
Bottas
Verstappen
Chris
Hamilton – 3pts
Verstappen – 1pt
Bottas – 1pt
Dan
Bottas – 1pt
Hamilton – 1pt
Verstappen – 3pts
Lee
Vettel – 0pts
Hamilton – 1pt
Leclerc – 0pts
Paul
Hamilton – 3pts
Bottas – 3pts
Verstappen – 3pts
Sian
Hamilton – 3pts
Leclerc – 0pts
Bottas – 1pt
This week's guest predictor is very long-time (in fact he's been around almost as long as we have) listener Michael Cohen
Bottas – 1pt
Hamilton – 1pt
Leclerc – 0pts
Predictions for Monaco
Chris
Hamilton
Bottas
Leclerc
Dan
Hamilton
Bottas
Vettel
Lee
Hamilton
Bottas
Norris
Paul
Hamilton
Bottas
Verstappen
Sian
Bottas
Verstappen
Hamilton
This week's guest predictor is F1 technical expert Craig Scarborough who was a guest on this week's show
Hamilton
Verstappen
Bottas