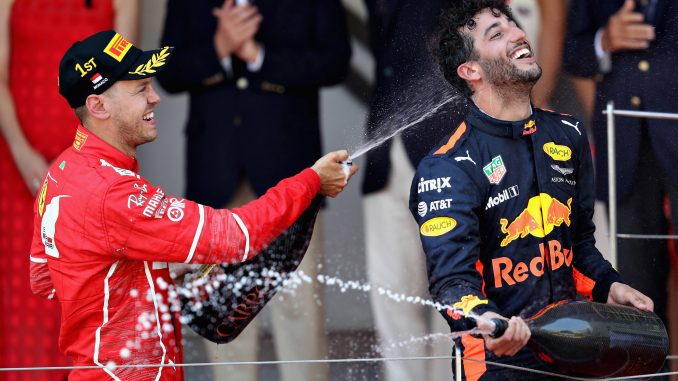 Podcast: Play in new window | Download
Subscribe: Apple Podcasts | RSS
And what a Sunday it was, Monaco and the Indy 500. We were actually spoilt with the amount of racing we had to watch and 3 of us have to admit that we were impressed with the oval race (you'll have to listen so find out who wasn't). But we're an F1 podcast and that has to take precedence!
So this week on the podcast we've got a review of the Monaco Grand Prix which marked the one-off return of Jenson Button (didn't go well), Sauber's best chance for a 2nd points finish of the season (see what we said about JB) and a chance for Mercedes to show that they have the car to match the engine on a circuit that's not all about power (see previous statements!)
What we did get was a dominant weekend by Ferrari with a win for Championship leader Sebastian Vettel, although there are already conspiracy theories that Ferrari took the win away from pole sitter Kimi Raikkonen to gift it to him, we think otherwise as you'll hear. We could talk about this weekend though without talking about Fernando Alonso's performance in the Indy 500 and the race as a whole so there's some stuff on that as well as a little bit of news (there's never much news at Monaco weekend though) and the all the usual features like the Formula Lee results, Who's A Total Shunt and the usual amount of going off on tangents!
Thanks as always for your Tweets, Emails & Facebook messages and don't forget there's an extra show that you can get access to by pledging on our Patreon Page too.
As always, you can listen here or on Sticher and iTunes and most other podcast apps too along with TuneIn Radio