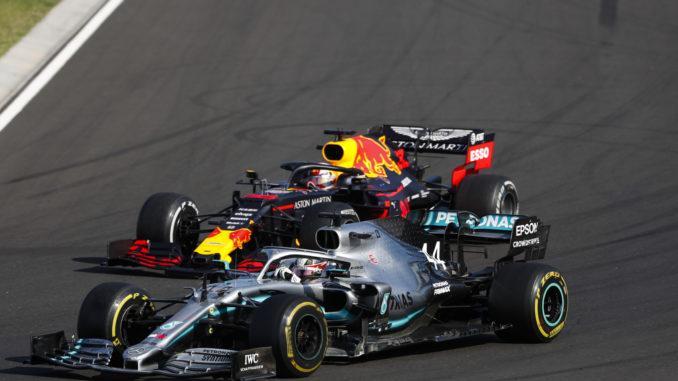 Podcast: Play in new window | Download
Subscribe: Apple Podcasts | RSS
That's 4 exciting races we've had in a row now in the run up to the Summer break. And for the first time in a while we saw Mercedes pull an amazing strategy move over RedBull with Lewis Hamilton being tasked with making up a 20 second gap over the last 20 laps on a new set of tyres to hunt down and pass Max Verstappen.
This week on the podcast we take a look back at the Hungarian Grand Prix which is the end of the first part of the the 2019 season before the teams all take a break for the mandatory 2 week Summer shutdown before we reconvene in Belgium in September. There were a few talking points from this race that not only affect this season, but will have a huge bearing on who will be driving where in 2020 and possibly beyond.
We couldn't let this point of the season pass without rating the teams as well, so we've gone through the grid and marked them all based on the performance so far this year. Do you agree with our marks, or have we got things wrong? Let us know how you think our ratings compare with yours.
There's a bit of talk about the Silly Season as well with the speculation surrounding the future of a few drivers on the grid as well as the usual features with a Who's A Total Shunt, and a new Formula Lee challenge (Baku in the dry in the 2010 McLaren) and don't forget to sign up for our league in the official Fantasy F1 game and we've got our own predictions league running too that you can take part in.
Dan's missing on this week's show for a good reason after doing his 100 mile bike ride raising funds for Macmillan Cancer support and you can still sponsor him here.
Don't forget about our extra show on our Patreon page where you can get an exclusive extra podcast for as little as $1 a month. And if you want your own 3Legs4Wheels t-shirt you can get one from our shop at Teepublic
Enjoy
(Also Let's see if anyone can get the music reference in this week's title…)
As always, you can listen here or on Stitcher and iTunes and most other podcast apps too along with Spotify, Acast and TuneIn Radio (which means we now play on Alexa devices)