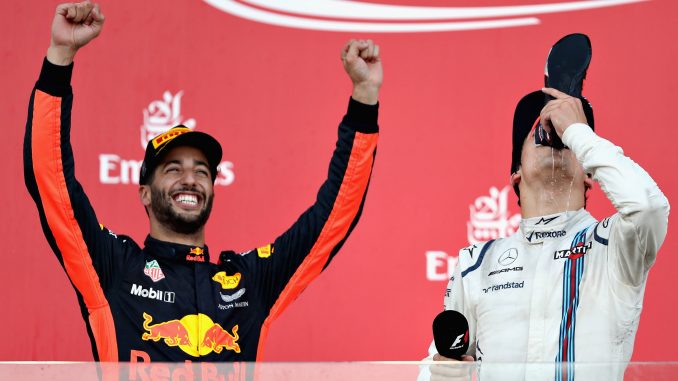 Podcast: Play in new window | Download
Subscribe: Apple Podcasts | RSS
Holy C**p! That was some Grand Prix this weekend. Where do you start with it? Azerbaijan finally lived up what we were promised last year and then some!
This week we try and review the race on the podcast in less time than the race itself took from lights out to Danny Ric taking the chequered flag without missing anything out. This is the longest show that we've done to date (over 2h45m long) and we may not have even managed to cover everything that happened at the Baku City Circuit at the weekend.
There's the usual team by team review and then more on the fallout between the leading pair in the Driver's championship, there's also what news we've got that didn't come from Baku, an update on Formula Lee. A cunning Who's A Total Shunt and we've tried to cut down on the number of tangents we go off on, bu that's not always possible when we're without Dan the voice of reason (get well soon and see you back to race fitness next week)
Thanks as always for your Tweets, Emails & Facebook messages and don't forget there's an extra show that you can get access to by pledging on our Patreon Page too.
Enjoy
As always, you can listen here or on Sticher and iTunes and most other podcast apps too along with TuneIn Radio