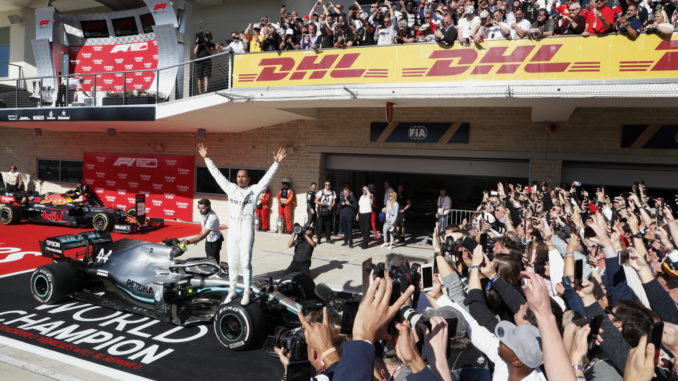 Podcast: Play in new window | Download
Subscribe: Apple Podcasts | RSS
Well he's done it again! Congratulations to Lewis Hamilton for his 6th Word Driver's Championship, coming after Mercedes clinched their 6th consecutive Constructor's crown 2 races ago in Japan. Although once again he didn't take the title with a win. This weekend that went to his team-mate Valtteri Bottas who took the US Grand PRix from pole position at the weekend.
This week on the podcast we look back at the race at Circuit Of The Americas in Austin Texas, where F1 has now firmly got itself a US foothold. Once again this venue gave us some great racing all the way down the field and showed that a grand Prix doesn't have to be a parade.
There's also a few news stories on this week's show, including our early thoughts on the 2021 rules which were announced by F1 last week. As for the technical side of them, we're hoping to be joined by Craig Scarborough newt week to break down the differences in the way that the new cars will perform to how they run now.
There's the usual stuff as well like Who's A Total Shunt and Formula Lee results and a new challenge (Brazil in the wet in an Alfa Romeo) and don't forget to sign up for our league in the official Fantasy F1 game and we've got our own predictions league running too that you can take part in.
Don't forget about our extra show on our Patreon page where you can get an exclusive extra podcast for as little as $1 a month. And if you want your own 3Legs4Wheels t-shirt you can get one from our shop at Teepublic
And don't forget that we're talking part in Movember to raise funds to support men's health. You can donate or even join in with team 3L4W here
Enjoy
As always, you can listen here or on Stitcher and iTunes and most other podcast apps too along with Spotify, Acast and TuneIn Radio (which means we now play on Alexa devices)