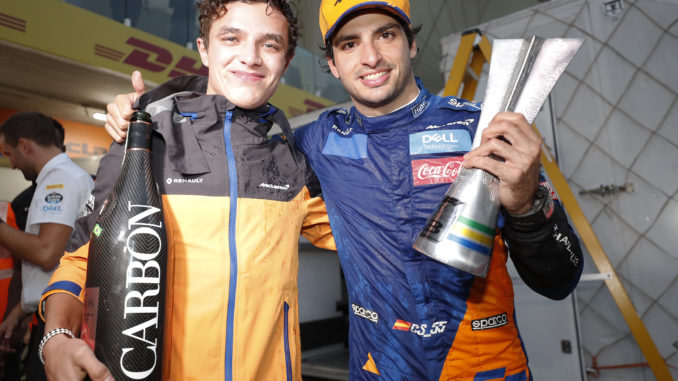 Podcast: Play in new window | Download
Subscribe: Apple Podcasts | RSS
Well that was a surprise, although we're still not sure what was the biggest one, 2 Honda powered cars on the podium, Carlos Sainz getting 3rd (eventually), Ferrari taking each other out, an actual Mercedes engine letting go in a Mercedes for the first time in ages. Whatever way, Brazil rarely lets us down and it certainly didn't this year!
This week on the podcast we take a look back at what can only be called an action-packed Brazilian Grand Prix (or certainly the last 20 minutes of it were) where McLaren got their first podium since Australia 2014, but just like that race they only had it confirmed after the ceremony and the two Ferrari drivers found themselves both in the gravel and also being summoned to Maranello for what's being described as "an extra debrief" to explain their actions.
There's the usual team by team review and or thoughts on all the talking points from the race along with the usual stuff as well like Who's A Total Shunt and a new Formula Lee challenge (Abu Dhabi in the dry in a Mercedes) with the last results to follow on next week's show and don't forget to sign up for our league in the official Fantasy F1 game and we've got our own predictions league running too that you can take part in.
Don't forget about our extra show on our Patreon page where you can get an exclusive extra podcast for as little as $1 a month. And if you want your own 3Legs4Wheels t-shirt you can get one from our shop at Teepublic
Also this year we're talking part in Movember (you'll see how we're doing with our moustaches if you watch the show on YouTube) to raise funds to support men's health. You can donate or even join in with team 3L4W here
Enjoy
As always, you can listen here or on Stitcher and iTunes and most other podcast apps too along with Spotify, Acast and TuneIn Radio (which means we now play on Alexa devices)