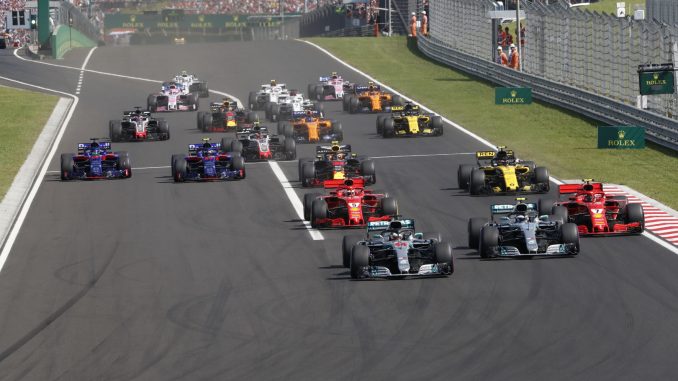 Podcast: Play in new window | Download
Subscribe: Apple Podcasts | RSS
The Hungarian Grand Prix has now become the regular last race before the summer break in the F1 season and we've got to be honest, it seemed like most of the grid was on holiday by round about lap 5 or 6. While it wasn't the most thrilling race it did throw out a few talking points; Is Christian Horner right about Renault phoning it in when it comes to RedBull's engines? Is there any consistency with the penalty calls from the stewards? Should all race weekends have some wet weather running to spice things up a bit?
This week on the podcast we look back at the Hungarian GP which gave Lewis Hamilton his 2nd consecutive win and put in almost a full race clear of Sebastian Vettel going into the 4 week summer shutdown before the end of the European races and the start of the fly-away part of the 2018 season. We've got the usual team by team look back at the race and a few things that we saw that weren't picked up at the time.
There's a look at the latest F1 stories as well with the new leadership of the whole company after the sad passing of Sergio Marchionne (R.I.P.) and the turmoil that is the financial situation at Force India after they entered Administration last week, right in the middle of the race weekend, and what the future might hold for them after this move. There's also our latest silly season, driver move predictions which have all been thrown up in the air after this weekend, along with the usual features like Formula Lee  (Canada in the dry in a 2008 McLaren), a Who's A Total Shunt that's actually been sent in this month and more besides. Don't forget about our extra show on our Patreon page where you can get an exclusive extra podcast for as little as $1 a month. And don't forget to check out our range of merch that you can order by clicking the link at the top of the page or here.
Enjoy
As always, you can listen here or on Sticher and iTunes and most other podcast apps too along with Acast and TuneIn Radio (which means we now play on Alexa devices!)