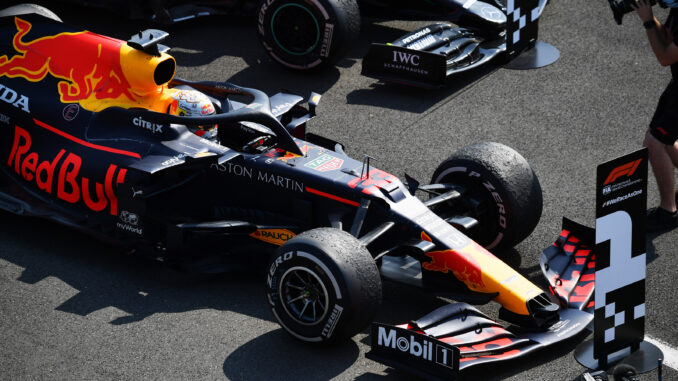 Podcast: Play in new window | Download
Subscribe: Apple Podcasts | RSS
It's taken until the 5th race of the season, but we've finally got someone who doesn't drive for Mercedes on the top step of the podium. Max Verstappen and RedBull made the best of an unpredictable situation with blistering tyres and not driving like a granny to win the 70th Anniversary Grand Prix at Silverstone this weekend.
This week on the podcast we look back at a race that was in danger of being a carbon copy of last week's British Grand Prix now that the teams had worked out how the tyres would work, or so they thought. As always we go through the race team by team from the back and don't do Mercedes last!
There's also our thoughts on the penalties handed out to Racing Point after Renault's protest regarding their brake ducts and what it could mean for other teams that have purchased parts for their cars from other teams on the grid. There's the continuing Silly Season speculation about who is going to end up where in 2021 and beyond and loads more as well including a tricky Who's A Total Shunt.
Don't forget to get your Prediction League entry in for this weekend's 70th Anniversary Grand Prix. Also check out our Discord server where you can sign up for our iRacing league as well as joining in with all the chat on there and you can keep in touch on Facebook & Twitter as always and thanks to the unpredictable Manx weather we're back doing the show over Skype (we will get in the same room again soon, we promise!)
Enjoy