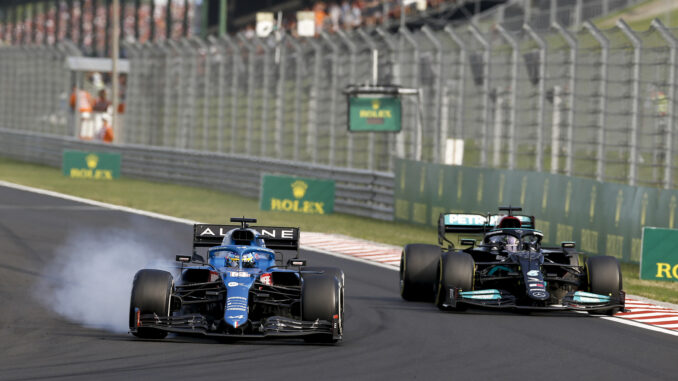 Podcast: Play in new window | Download
Subscribe: Apple Podcasts | RSS
Fresh off the back of the British Grand Prix controversy, all we needed was for things to get back to normal before the F1 summer break right? Well we didn't get that did we! 6 cars out before we knew what was happening, Lewis Hamilton taking a restart on his own (shades of USA 2005 anyone), Fernando Alonso rolling back the years on his 40th birthday weekend, Williams back in the points and Alpine getting their first win as a constructor and first win for any Enstone team since Kimi at the 2013 Australian Grand Prix!
This week on the podcast we try to unravel as much as we can from a surprising Hungarian Grand Prix, which ended up with Estaban Ocon on the top step of the podium for the first time in any race since his days in GP3 6 years ago and another bad race for RedBull, but at least they managed to get one car in the points this week. There's the usual team by team review with Rockstars (many) & Wankers (don't have to work out too hard who they are) There's the usual tangents and maybe some Manx politics and of course a Who's A Total Shunt
And while you're online, check out our Discord server where you can sign up for our iRacing league as well as joining in with all the chat on there and you can keep in touch on Facebook & Twitter as always. And don't forget you can click the link to signup at Patreon from £1/$1/€1 per month.
Enjoy
As always, you can listen here or on Stitcher and iTunes and most other podcast apps too along with Spotify, Acast and TuneIn Radio on your smart speakers.