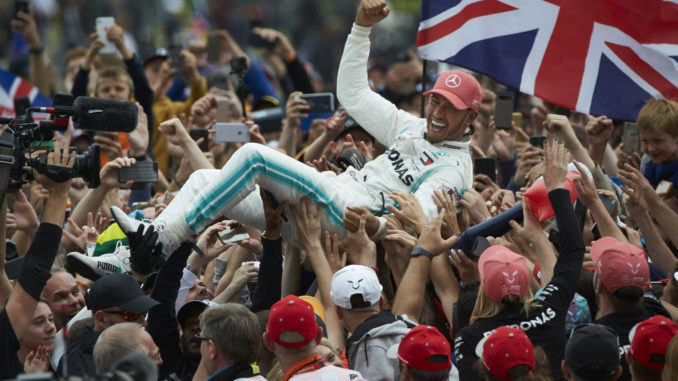 Podcast: Play in new window | Download
Subscribe: Apple Podcasts | RSS
There's one constant that you can expect from the British Grand Prix and that's if Lewis Hamilton wins the race he's going to crowdsurf like a pro and this weekend at Silverstone was no exception!
This week on the podcast we look back at an action packed British Grand Prix which carried on where we left off 2 weeks ago in Austria with plenty of on-track action, but with the added bonus of the stewards not getting involved in the result. In fact the only penalty that they gave out all weekend was a 10 second time penalty for Sebastian Vettel when he punted Max Verstappen into the gravel at Club.
Other than that it wasn't a crashy race (unless you're in a Haas than it was more crash than race) but we still got to see huge amounts of on-track action and overtaking. This is what racing should be like (are you listening French Grand Prix?) There's a round up of news as well which seem to be dominated this week by some black and gold energy drink cans.
Also sorry about the sound quality this week, we had a problem with Chris's microphone (or with Chris not talking into it) so if the show sounds a bit too echo y, then that' our fault.
and there's also the usual features with a reminder of the first Formula Lee race on F1 2019 (Great Britain in the dry in an ART F2 car) 2 Who's A Total Shunts this week (you'll find out why), and don't forget to sign up for our league in the official Fantasy F1 game and we've got our own predictions league running too that you can take part in.
Don't forget about our extra show on our Patreon page where you can get an exclusive extra podcast for as little as $1 a month. And if you want your own 3Legs4Wheels t-shirt you can get one from our shop at Teepublic
Enjoy
As always, you can listen here or on Stitcher and iTunes and most other podcast apps too along with Spotify, Acast and TuneIn Radio (which means we now play on Alexa devices)