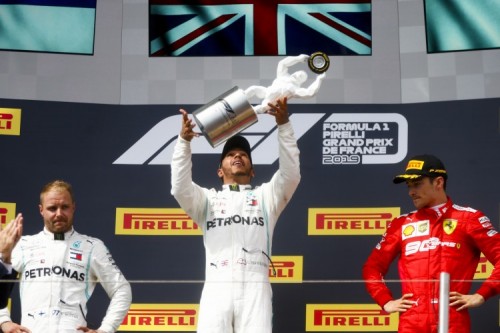 Podcast: Play in new window | Download
Subscribe: Apple Podcasts | RSS
There's 2 meaning behind the title of this week's show as the French Grand Prix took the award for the strangest trophy of the season, with the return of the tyre wielding gorilla trophies and Mercedes were on the top step of the podium for the 8th time out of 8 in 2019.
Other than that, it was a bit of a snoozefest at the weekend in Le Castellet. It's been called the "worst race in the history of F1" by some (mainly on Twitter, but a by couple of real journalists as well) and a reason that F1 needs to change. We're not going to argue with the fact that there's changes needed and bloody soon, but as we point out in this week's podcast, Circuit Paul Ricard has been configured as a test track, so you expect to see a parade of cars going round within normal parameters.
Also on this week's show we look forward to what will hopefully be a more exciting Austrian Grand Prix as we're in a back to back week, so all being well the memory of a sleepy Sunday afternoon in the south of France won't stick with us all for too long…
There's also the usual features with the final Formula Lee race on F1 2018 before the new version is launched this weekend (Austria in the wet in a Brawn) a Who's A Total Shunt that got us all thinking, and don't forget to sign up for our league in the official Fantasy F1 game and we've got our own predictions league running too that you can take part in.
Don't forget about our extra show on our Patreon page where you can get an exclusive extra podcast for as little as $1 a month (and get some exclusive news this week). And if you want your own 3Legs4Wheels t-shirt you can get one from our shop at Teepublic
Enjoy
As always, you can listen here or on Stitcher and iTunes and most other podcast apps too along with Spotify, Acast and TuneIn Radio (which means we now play on Alexa devices)