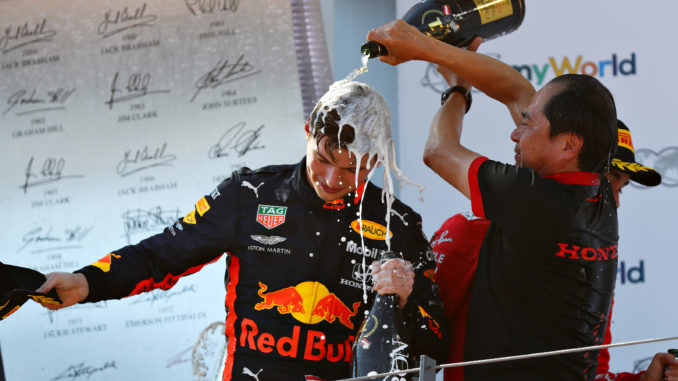 Podcast: Play in new window | Download
Subscribe: Apple Podcasts | RSS
We'd only just put our socks back on after the French Grand Prix bored them off last week and we were collectively happy to then have them blown off by an absolute classic of a race in Austria!
This weekend's Austrian Grand Prix had everything that an F1 race should have, overtaking, dicing for the lead, a bit of drama and not knowing who's going to win right up to the end (we'll skip the bit about having to wait a couple of hours for the stewards to actually confirm that the driver who was first over the line actually won).
There's a lot to talk about on the podcast this time round, an amazing comeback performance from Max Verstappen after a nightmare start, a Honda powered car on the top step of the podium for the first time in 13 years (Jenson Button's win at Hungary 2006 was the last time), the continuing resurgence of McLaren, a first point for Antonio Giovinazzi (with the accompanying haircut) and loads more. We've also had a look at the new Codemasters F1 2019 game and Paul & Lee share their early impressions of that.
There's also the usual features with the first Formula Lee race on F1 2019 (Great Britain in the dry in an ART F2 car) a Who's A Total Shunt that goes right to the wire, and don't forget to sign up for our league in the official Fantasy F1 game and we've got our own predictions league running too that you can take part in.
Don't forget about our extra show on our Patreon page where you can get an exclusive extra podcast for as little as $1 a month. And if you want your own 3Legs4Wheels t-shirt you can get one from our shop at Teepublic
Enjoy
As always, you can listen here or on Stitcher and iTunes and most other podcast apps too along with Spotify, Acast and TuneIn Radio (which means we now play on Alexa devices)