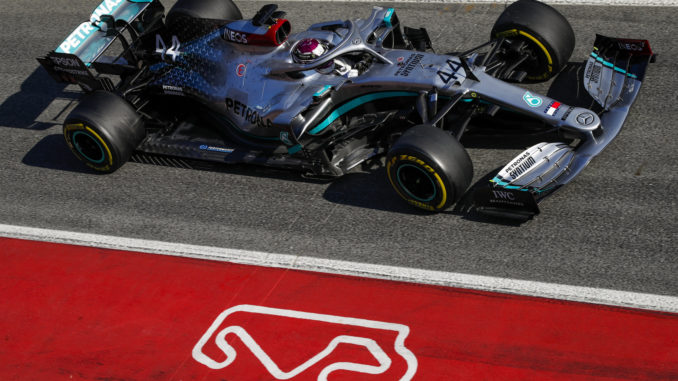 Podcast: Play in new window | Download
Subscribe: Apple Podcasts | RSS
Testing week 1 is done and what an innovation the Silver Arrows have dropped on us this year? Up to last Wednesday, steering wheels just rotated left and right and that was all they did, but now that to more innovation from Mercedes we now have ones that go in and out as well.
This week on the podcast we take a look at the first week of pre-season testing which features the new Dual Axis Steering (DAS) system from the reigning World Champions, which allows the driver to make slight adjustments to the toe angle of the front wheels on the car, giving it a better response into corners and slightly reducing the drag on the straights. We're not going to get too technical on this (We'll save that for the next time Scarbs is on). But needless to say we're all pretty impressed by it.#
It's not just about Mercedes though as we take a look at how all the teams stacked up with their new cars, although since we recorded this on Monday night, it looks as though Renault may have been running their 2019 car with a few tweaks, and what the test has shown us about where they will perform in the upcoming season.
And of course there's all the speculation and wild guessing you'd expect from us along with the usual Who's A Total Shunt and a reminder about the latest challenge in the Formula Lee Winter Series (a 2010 RedBull in the dry at the Silverstone short circuit.) Don't forget that the extra Patreon podcasts are available on our page over there and that the show now goes out live on YouTube every Monday at around 9PM UK time (4PM EST) (When we can get the bloody feed to work)
Enjoy
As always, you can listen here or on Stitcher and iTunes and most other podcast apps too along with Spotify, Acast and TuneIn Radio (which means we now play on Alexa devices)