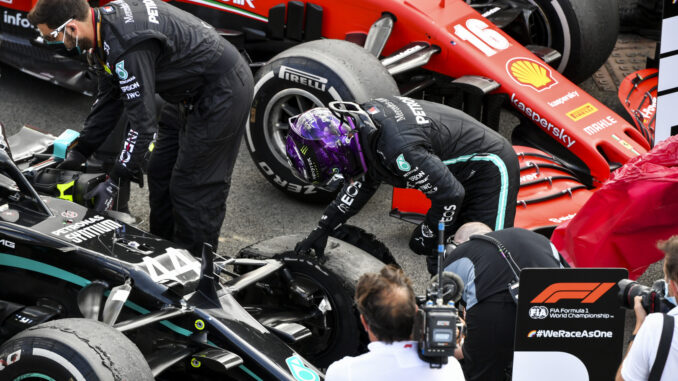 Podcast: Play in new window | Download
Subscribe: Apple Podcasts | RSS
So what to make of this year's British Grand Prix? Looking at the facts on paper we had a driver returning at the last minute after missing out on the opening 3 races of the season, 2 safety cars, drama in the closing laps and a winner with only 3 working wheels on his car. That's a lights to flag classic right? Shame that wasn't the case and what we got was a bit of a parade up to the last 4 laps when all hell broke loose.
This week on the podcast we look back at an action packed 10 minutes of the British Grand Prix out of a race that lasted over 90. Joking aside it was another race where Mercedes showed us just how dominant they are this season and will be in 2021 as well. There's the usual team by team run through of the grid and more discussion on the continuation of the silly season with the rumours getting stronger that we will see Sebastian Vettel in a Racing Point/Aston Martin next year.
There's all the usual tangents as well along with the Formula Lee being paused due to a glitch in the F1 game, but at least we had time for a shunt this week and don't forget to get your Prediction League entry in for this weekend's 70th Anniversary Grand Prix. Also check out our Discord server where you can sign up for our iRacing league as well as joining in with all the chat on there and you can keep in touch on Facebook & Twitter as always and sorry we're over Skype again, but we're having car trouble of our own this week.
Enjoy
As always, you can listen here or on Stitcher and iTunes and most other podcast apps too along with Spotify, Acast and TuneIn Radio on your smart speakers.