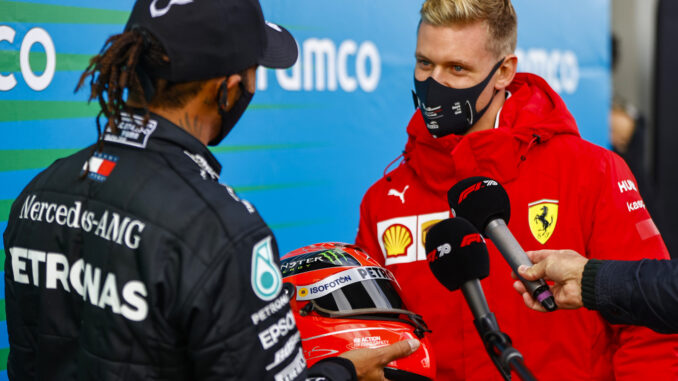 Podcast: Play in new window | Download
Subscribe: Apple Podcasts | RSS
If you want to be a record breaker anyway. And this week we had one record broken and one record equalled at the 1st (and as we keep saying, probably only ever) Eifel Grand Prix as Formula 1 made it's long overdue return to the Nurburgring in the German Eifel mountains. We were promised an unpredictable race and a wet one at that. But while we didn't get the rain we were promised on Sunday, thanks to the weather we got a glimpse of what the upcoming 2 day race weekend at Imola is going to look like with zero track time on Friday. And we think this actually may have shaken things up a bit as 3 hours of valuable data gathering was lost on what would have been the opening two practice sessions, leaving everyone to go into Saturday's FP3 with only an hour to work out if their guesswork was right!
This week on the podcast we look back at the Eifel Grand Prix with our usual team by team review of a race that saw Danny Ric return to the podium for the first time since Monza 2018 in a Renault that has been a team in a world of disappointment since Nick Heidfeld took 3rd in Malaysia in 2011. Of course no race review would be complete with our thoughts on who were the rockstars and w**kers of the week to. Of course this race was a special one for 2 drivers as well with Kimi Raikkonnen starting his, record setting 323rd race in a career that started 19 years ago and Lewis Hamilton equalling Michael Schumacher's record of 91 wins (and he's not showing any signs of stopping soon!
There's all the other stuff on the show as well with a Who's A Total Shunt from the reserve pile (no Lee this week) and due to internet problems at this end, there's an extension of one week to the 3rd race in the Formula Lee season (Vietnam in the dry in a Mercedes) and we will get the results of the 1st 2 races up as soon as that's sorted out! Don't forget our Discord server where you can sign up for our iRacing league join in the chat during the races and practice/qualifying sessions along with during the week as well and of course you can keep in touch on Facebook & Twitter as always .
Also an update on the Patreon campaign where Chris will do a cover version of Womanizer by Britney Spears if we get $9 in extra donations by the end of this month.
Enjoy
As always, you can listen here or on Stitcher and iTunes and most other podcast apps too along with Spotify, Acast and TuneIn Radio on your smart speakers.