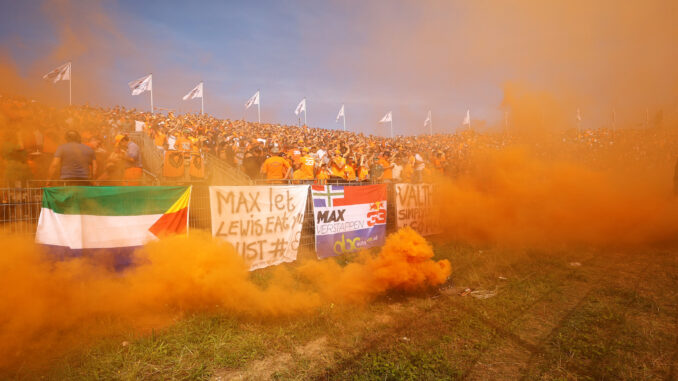 Podcast: Play in new window | Download
Subscribe: Apple Podcasts | RSS
The return of the Dutch Grand Prix finally happened a year late thanks to the turmoil of 2020 and that was an atmosphere worth waiting for. We all knew beforehand that the circuit would be decked out almost exclusively in orange and full of fervent Max Verstappen fans, but we weren't expecting them to be this wild!
This week on the podcast we look back at the return of F1 to Zandvoort for the first time since Nikki Lauda won the 1986 race along with taking a look at the latest domino to fall in the 2021 Silly Season with the Monday News (I know, right!) that Valtteri Bottas is leaving Mercedes after 5 one-year contracts for the multi-year deal he's wanted for ages, but he'll be driving an Alfa Romeo next season (as one Finn leaves etc) and at time of recording on Monday night, we haven't had confirmation of who's going to be replacing him but we all know who it's going to be.
There's a few wild tangents as well, so apologies if the race review takes a while as we got sidetracked plus there's Who's A Total Shunt from the reserve list after Lee had a couple of technical problems.
Thanks as always for all your support for these last 299 shows and we actually can't believe that we're recording episode 300 next week!
And while you're online, check out our Discord server where you can sign up for our iRacing league as well as joining in with all the chat on there and you can keep in touch on Facebook & Twitter as always. And don't forget you can click the link to signup at Patreon from £1/$1/€1 per month.
Enjoy
As always, you can listen here or on Stitcher and iTunes and most other podcast apps too along with Spotify, Acast and TuneIn Radio on your smart speakers.