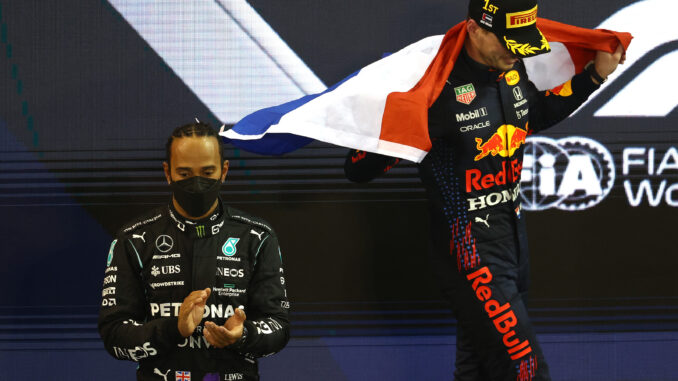 Podcast: Play in new window | Download
Subscribe: Apple Podcasts | RSS
There were so many names we could have given this week's podcast given the controversial nature of the 2021 season finale in Abu Dhabi this past weekend. But we've decided to err on the side of caution and not make any references to spineless creatures like jellyfish or any title with an asterisk next to it.
So the 2021 season is in the books and RedBull's Max Verstappen has finally got his hands on the World Driver's Championship (correct at time of going to press at least) after a race that will probably go down as the most controversial end to a Grand Prix that we've seen in all the years of F1. This week the 4 of us try and make some sense out of what happened leading up to and including the las 5 laps at Yas Marina where race control did something with the rules to ensure that the race (and the season) didn't finish behind a safety car and the fallout that's come from it all.
We try to go team by team this week, but there was really only 2 teams in it, so much so that nobody noticed Carlos Sainz sneaking into 3rd place until the race had been over for about 10 minutes along with a few of the usual tangents to try and keep our spirits up in the knowledge that F1 is done until next year of course we had to chuck in a Total Shunt from someone whose name Lee was never going to get right so it was left to Paul to make a complete garbled mess of it as well.
Thanks for all your support this year and we'll be back in a couple of weeks for a season review. But in the meantime check out our Discord server where you can sign up for our iRacing league as well as joining in with all the chat on there and you can keep in touch on Facebook & Twitter as always.
Happy Christmas from the 5 of us and all the podcats too
As always, you can listen here or on Stitcher and iTunes and most other podcast apps too along with Spotify, Acast and TuneIn Radio on your smart speakers.