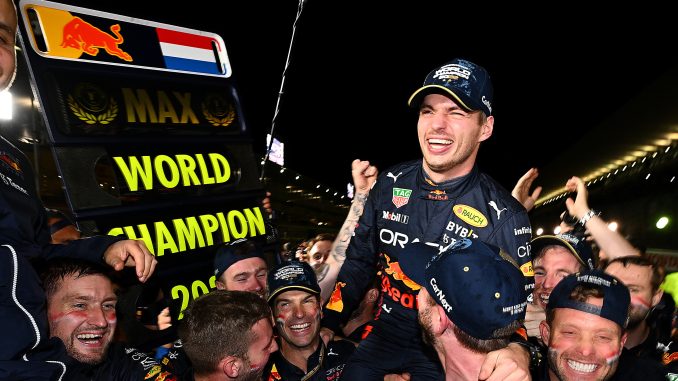 Podcast: Play in new window | Download
Subscribe: Apple Podcasts | RSS
Japan, home of the F1 fans with the best hats who aren't afraid to spend all weekend in the stands in a race suit plus a helmet and also a place where championships are won. Well all these things happened this year, but not exactly how everyone thought and hoped they were going to go. For starters a lot of the crazy hats were under rain ponchos, just like the fans underneath them, and yes the championship was won (in dominant form by the now two time World Champ Max Verstappen) but scratch away the surface and it was a bit of a confusing Sunday to say the least.
This week on the podcast we take a look back at the Japanese Grand Prix which saw Max take his 2nd consecutive WDC in a rain-shortened race where seemingly only Johnny Herbert out of all the World's media knew that full points were going to be awarded and the result meant that the Dutch driver had clinched the crown with 4 races still to go. Then there's the whole tractor-gate saga along with just how long a race we had or were meant to have and it goes to show that the F1 rulebook as a few grey areas when it comes to interpretation, to put it mildly.
There's our usual clump of tangents and Podcat appearances as well (it wouldn't be complete without them) and now the silly season is drawing to a close there's till a bit of conjecture about the 2 remaining seats on the 2023 grid (Williams and Haas being the only teams yet to confirm their lineups)
Also don't forget to check out our Discord server where you can sign up for our iRacing league as well as joining in with all the chat on there (and put your suggestion in for podcast titles too) and you can keep in touch on Facebook & Twitter as always.
Enjoy
As always, you can listen here or on Stitcher iTunes Amazon and most other podcast apps too along with Spotify, Acast and TuneIn Radio on your smart speakers.