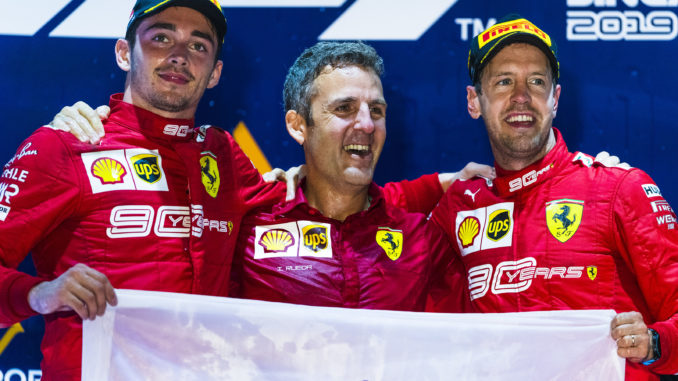 Podcast: Play in new window | Download
Subscribe: Apple Podcasts | RSS
Coming off the back of 2 wins at low downforce, high speed circuits, nobody thought that Ferrari would be in with a sniff of getting anything out of this weekend's race in Singapore on a tight, twisty street circuit with plenty of the type of low speed corners where the red cars have been nothing short of woeful in 2019. So of course Ferrari end up shocking us all by taking the 1st ever 1-2 finish in Singapore and making strategy calls that gave them an advantage over the rest of the field.
This week on the podcast we look back at the Singapore Grand Prix which gave Sebastian Vettel his first win for 392 days (Belgium 2018 if anyone's counting), but this wasn't without controversy, The pitstop strategy that Ferrari put their cars on worked in his favour and there's stories abound that this was done as an attempt at teaching Charles Leclerc a lesson after his slow outlap in Q3 in Italy, where he was meant to give Vettel an aerodynamic tow, cause no end of problems for his team mate and another 6 cars besides! As usual there's a full team by team review of the race and a few bits of F1 news as well as a preview of he Russian Grand Prix in Sochi this coming weekend.
There's also the usual features with along with a new Formula Lee challenge (Russia in the dry in a Russian Time F2 car) and don't forget to sign up for our league in the official Fantasy F1 game and we've got our own predictions league running too that you can take part in.
Don't forget about our extra show on our Patreon page where you can get an exclusive extra podcast for as little as $1 a month. And if you want your own 3Legs4Wheels t-shirt you can get one from our shop at Teepublic
Enjoy
As always, you can listen here or on Stitcher and iTunes and most other podcast apps too along with Spotify, Acast and TuneIn Radio (which means we now play on Alexa devices)